With United's National League campaign due to get back underway in less than two months, the Club can now confirm arrangements for 2021/22 Season Ticket sales.
Following a season where Gary Johnson's men went agonisingly close to clinching promotion to the EFL on two fronts, everybody at the Club is more determined than ever to ensure that come the end of 2021/22, Torquay United are confirmed as a Football League Club once more.
For the season ahead, we are encouraging more families than ever to witness the action in person, with the Club continuing to offer savings to young supporters accompanied by an adult, with Under 7s FREE and Under 12 Season Tickets available for just £46! Under 18 season tickets remain superb value at £100, whilst the Club is also introducing our fantastic new Family Season Ticket for £575, which represents even more savings for United-loving families.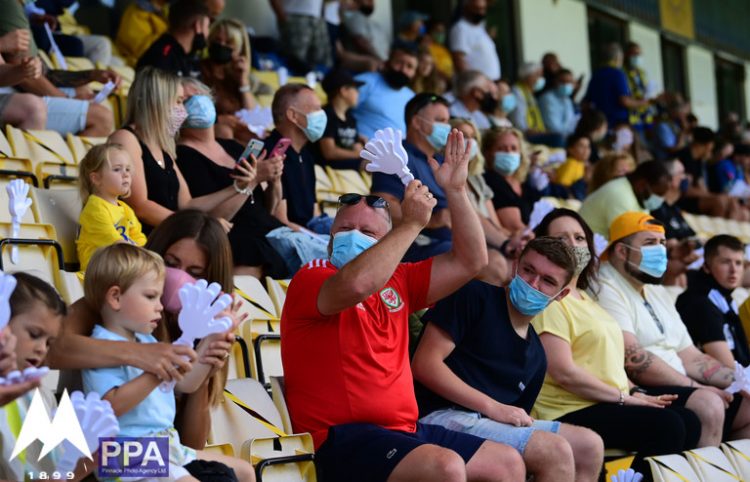 Anybody that was present for our memorable play-off victory over Notts County will have witnessed first-hand how much of an impact our superb Yellow Army can have on the players, and with the hope of restrictions being relaxed from the start of next season, turning Plainmoor into a fortress on a regular basis can only increase our chances of success next season.
With the handling of cash payments now greatly reduced due to risks associated with the recent global pandemic, Torquay United AFC will continue to provide a cashless ticketing process during the season ahead.
This move will again be facilitated by our online ticketing website here, where both Season Tickets and future individual match tickets will be available to purchase. All tickets must be purchased in advance, with no tickets available via the turnstiles on a matchday.
Season tickets offer supporters significant savings on individual match prices, with even greater value available to those purchasing during our early discount window, which runs until Friday, 23rd July. To encourage the next generation of the Yellow Army to experience live football at Plainmoor, there are huge savings for Under-18s, whilst Under-12s accompanied by an adult can save up to £174 on individual ticket prices!
As a way of showing our appreciation to 2020/21 Season Ticket holders, the Club will also be offering an additional 10% discount to those choosing to renew for the 2021/22 season during the priority access window, which runs from 10am on Monday 28th June – 10am on Monday, 5th July.
As an additional thank you to supporters who purchase Individual Match Tickets, the Club have decided to freeze prices for a third successive season.
Season-Ticket Prices
Adult
Concession
Under-18
Under 12s*
Bristow's Bench

Early Discount Rate

 £324
£288
£100
£46
Bristow's Bench

Full Price

£360
£320
£125
£69
Family Stand

Early Discount Rate

 £306
£270
£100
£46
Family Stand

Full Price

£340
£300
£125
£69
Popside

Early Discount Rate

£ 288
£ 252
£ 100
£46
Popside

Full Price

£320
£280
£125
£69
Individual Match Ticket Prices 2021/22
| | | | | |
| --- | --- | --- | --- | --- |
| Stand | Adult | Concessions | Under-18 | Under-7 |
| Bristow's Bench | £18 | £16 | £10 | FREE with a paying adult |
| Family Stand | £17 | £15 | £10 | FREE with a paying adult |
| Popside | £16 | £14 | £10 | FREE with a paying adult |
Note:
Concessions apply to people aged 65 or over on 1st July 2021.
Student rates apply to holders of a valid NUS card as at 1st July 2021
Under 18, Under 12 and Under 7 rates apply to ages at 1st July 2021
Proof of disability required on purchase, DLA or blue badge, will entitle you to a carers season ticket free of charge.
Under-12 and Under-7 Season Tickets only available when purchased with an Adult Season Ticket, with a maximum of 2 per household.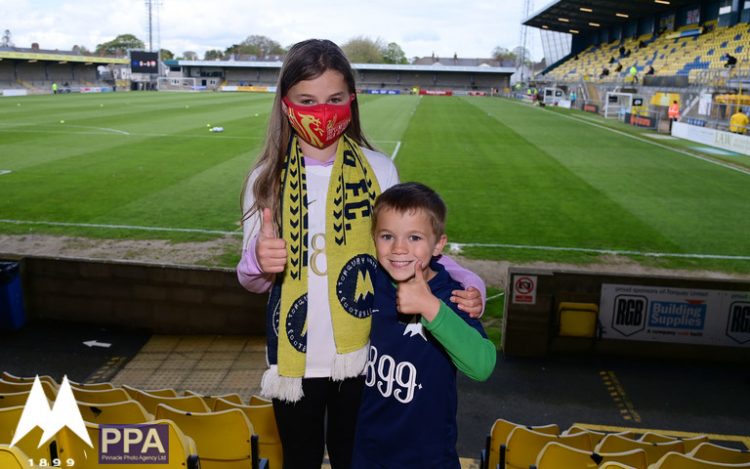 Introducing our new Family Season Ticket
Torquay United AFC prides itself on being a family-focused club at the heart of its local community, and we are therefore delighted to announce the introduction of our new Family Season Ticket, which offers superb value to families of four people, enabling everybody to enjoy the action at Plainmoor together!
Family Season Tickets are available for £575 and are available in the following combinations:
2 Adults + 2 Under-12s
1 Adult + 1 Concession + 2 Under-12s
2 Concessions + 2 Under-12s
Please note that these group tickets are situated in the Torbay Weekly Family Stand, will be limited in availability and can only be booked over the phone.
Early Rate Discount tickets will go on sale over the phone on 01803 328666 and online from new ticket website here at 10:00 on Monday 28th June, and will be available until 17:00 on Friday 23rd July, with Standard rates coming into force thereafter.
Existing season ticket holders will have priority access to renew their season ticket from 10am on Monday 28th June enabling them to reserve their seats for next season, before any unreserved seats are then released for general sale on Monday, 5th July at 10am.
During this period, our phonelines at Plainmoor will be open between 10am – 4.00pm Monday-Friday for anyone wishing to book their Season Ticket over the phone. An answerphone facility will also be in operation, so please ensure any messages clearly include your name and contact details. Additional support can also be gained by emailing yellowarmy@torquayunited.com. However, please note that no bookings can be made via this method. Please also note that our offices at Plainmoor remain closed, and therefore no purchases can be made in person from the stadium.
Benefits of being a TUAFC Season Ticket include:
Priority access to reduced capacity games
Priority access to Cup games
Priority access to away games
10% discount on club shop purchases
Monthly Shirt Draw
All those that purchase a Season Ticket before 07/07 will also be entered into a draw to win a Signed 2020/2021 Players Shirt
A link to our 2021/22 Season Ticket Terms & Conditions is available here.
Everybody at Torquay United AFC would like to thank the Yellow Army for their magnificent support during the past twelve months, and we look forward to welcoming you all back to Plainmoor soon as we look to take the next step in our journey towards reclaiming our place back in the Football League.
#OneClub #OneCommunity