It was 33 years ago today, on May 9th 1987, that United secured their Football League status with a 2-2 draw at home to Crewe Alexandra. As all Gulls fans know though, that only tells half the story.
For anyone that does need reminding, United, who needed a draw on the final day of the season to escape a potential disastrous exit from the Football League, were trailing 2-1 against Crewe with only minutes left.
It was in those dying stages of the game that Police dog Bryn chose to intervene, by taking a bite out of right-back Jim McNichol's thigh to halt proceedings. The resultant four minutes of injury time allocated for the disruption gave The Gulls just enough time to grab their status-saving strike through Paul Dobson, making Bryn the unlikley hero of the hour!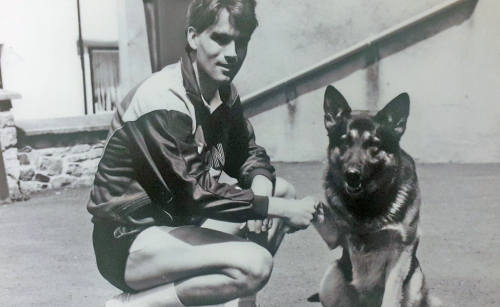 Those events are still recalled and recounted by the Plainmoor faithful over 30 years later, and last November the club teamed up with local drinks supplier Tolchards to enlist the help of Teignmouth-based brewers Red Rock in creating our own signature brew named in Bryn's honour.
With the football action currently on pause, we'd like to take this opportunity to thank our partners at Tolchards, and Jim McNichol, for their help in cementing Bryn's status in Torquay United folklore.
We look forward to welcoming the Yellow Army back to Plainmoor for their matchday brew – with added bite – again soon!