Having donned the captain's armband in the absence of regular skipper Asa Hall recently, no-one has taken more pride in United's impressive start to the season than Kyle Cameron.
Having threatened to open his account several times during the opening weeks of the campaign, Kyle's persistence finally paid off last Saturday, as he grabbed a match-winning brace in the 2-0 home win over Dover.
With a little bit more luck, Cameron could easily have had a hat-trick, with the 23 year-old defender explaining that adding a goal threat to his game was very much in his plans during the extended break over the summer.
"It's always something the gaffer has been on to me about – wherever I've been, I've not been a goalscoring centre-half," said Kyle.
"I could have had four this week. I had a chance in the Bromley game, I had two chances in the Chesterfield game, so it's been feeling like it was a matter of time. Hopefully this season I can get five, seven, or ten goals if I'm lucky.
"It's something I've needed to add to my game. The gaffer has always been on to me about bringing that side of my game out, not just being a threat in my own box when I'm clearing things, but also a threat in the opposition box by starting to attack corners. He's said it's doable, it's there if you want it, but you've got to believe you're going to get on the end of things, and attack it."
Those sound instructions from Johnson have been aided by a growing understanding with Connor Lemonheigh-Evans, with the United midfielder producing a number of inviting set-piece deliveries that Cameron has been only too happy to feed off. It is though, just one of the signs of a collective understanding that is already beginning to bear fruit amongst the group. Combined with a never-say-die spirit that has been clearly evident during the late wins over Stockport, Bromley and Chesterfield, it's not hard to see why there is cause for cautious optimism in the Torquay camp at present.
"Connor's delivery has been tremendous, and it was only going to be a matter of time before I got on the end of one. Thankfully I put two in the back of the net. Thankfully things are starting to click now, not just the partnership with Connor, but all over the pitch. We're starting to understand each other.
"It's a good thing to know we never give up, and don't stop until that final whistle goes. I think it's got to be a credit to all the lads, and coaching staff for the stuff they have done to keep us fit, because as soon as we were back in pre-season everyone was fit  and could get on the ball straight away. Some teams were using two of the first four weeks to get up to speed, we had an extra two weeks on getting the ball down and playing, and knowing how everyone plays, with all the new faces. It's got to be a credit to all the boys for how they looked after themselves during lockdown, and how they've come back, fit and raring to go.
"It's shown in the last twenty minutes of games, when we've always looked like winning the games. It doesn't matter if it's the 70th minute of the 90th minute, it's a win."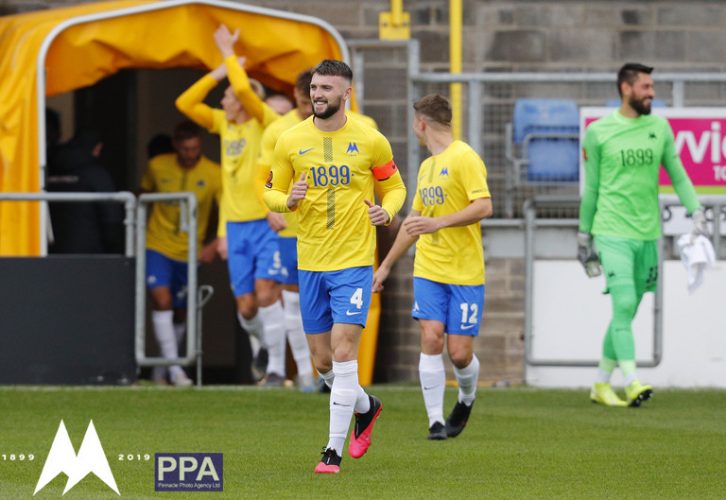 With United's manager always keen for his team take a combined responsibility for both defensive and attacking matters, that team ethic is clearly one that Kyle is also keen to buy into.
"If we are spreading the goals around the team, it puts less pressure on the strikers, because they don't need to think 'I've got to score for us to win the game'. The strikers have got other attributes, and I think there's going to be a lot of goals coming, because we are creating a lot of chances.
"In all five games, I think we've been a threat, and apart from the Eastleigh game, we've looked like we've finished the better team. We look positive, we're getting chances and it's only a matter of time before we put five or six past a team, and really kick on from there. When were are winning games 2-1, and scoring in the last minute, that's coming from the pressure and chances we're creating as a team.
"I sat down with Downsey and we analysed last year. We looked through things, and we said they we were conceding too many goals. That gets highlighted as the back four, but we are throwing bodies on the line and making tackles. I think it starts from the front, and we're defending from the front a lot better this year. Everyone is  defending well.
As matchdays go then, the Dover encounter couldn't have gone much better for Cameron – however, he's once again keen to focus on the team, rather than on any individual plaudits.
"As a defender, getting clean sheets is what you want. For me, getting a clean sheet on Saturday was just a good as getting those two goals, as I live and breathe for those clean sheets. As a target for myself, I want to try to get through the season with the best defensive record for the team, because it doesn't just shine well on me as a myself, but the goalkeeper, the defenders,  the whole team, if we set up well and we are organised. It's really good to see that we are limiting teams to chances.
"Like the gaffer says, we defend as an eleven, and this year we have that real togetherness, that real team spirit, and that never-say-die attitude."