In the latest of our feature celebrating some United favourites of the past, we catch up with a true Plainmoor legend.
In two separate spells in Torquay's colours, Robin Stubbs scored an remarkable 133 goals in 263 appearances, to rightly earn him the title 'The Prince of Plainmoor'.
What is perhaps even more surprising though, is that by the time Stubbs had arrived in South Devon to sign for Eric Webber's side in 1963, he had already made a name for himself as one of First Division Birmingham City's most exciting prospects.
Having established himself as a promising youngster in a number of sports, including Athletics and Cricket, a particularly notable bowling performance at Warwickshire's Edgbaston ground nearly paved the way for an alternative sporting career.
Thankfully for United, football was eventually selected as his sport of choice.
A stunning start to life at City during the 1958/59 season saw Robin notch 9 goals in 12 top-flight matches, including a hat-trick at Leicester and brace in a 7-1 win over Nottingham Forest as his side finished 9th.
The local media couldn't get enough of Birmingham's new goalscoring starlet, prompting one Midlands-based newspaper to draw comparisons to England great Tommy Lawton.
The following year, Stubbs even made his mark on the European stage, netting twice in the 5-0 home win over Danish side KB Kobenhavn to seal a place in the Inter-Cities Fairs Cup semi-finals. This made him something of a trailblazer, as Robin explains.
"I was 17 when I broke into the team at Birmingham and it was an exciting time, as we were the first English team to be playing European football.
European fixtures may have still been quite a novelty for some English sides, but this wasn't the case for the Blues, who also enjoyed an end-of-season tour to Germany.
As Stubbs recalls though, the travel arrangements weren't always the most straightforward though.
"We played some top sides in Germany, and I scored an equaliser in one of the games.
"We were flying to these places, and I do wonder what it would be like now.
"At the time, there were quite a few upsets, and something always happened, but we always managed to sort it out."
After making an impact on the highest domestic stage, international honours seemed more likely than a move down the footballing ladder, begging the question how such a talented player ended up signing for United, then plying their trade in Division 4.
According to the player himself, the move came as the result of a number of factors.
"Gil Merrick was my manager at Birmingham at time," recalls Stubbs.
"Twice I got a couple of injuries, which was irritating, and as the games went on, he brought in some experienced players. I was out of the team and said I wanted to go, but as it went on, nothing seemed to happen.
With Merrick apparently aware of the potential for one of his young players to come back and haunt him, it wasn't until United boss Webber made his move that he felt sufficiently comfortable to grant him his wish for first-team football away from St Andrews.
Although it can be argued that players of that era didn't possess the level of influence that they do today, Robin looked upon the potential move to Devon with excitement.
"The manager saw a gap, so told me to go down to Torquay, and see if I could get a contract there.
"I had been on holiday to that part of the world, although not Torquay itself, so I got in my flashy sports car and went off down there.
"I met Eric Webber, they took me off to the hotel, and then one of the restaurants, where we talked about a few things.
"The money wasn't much different, so that wasn't a big thing, and it all what happened at just about the right time for the start of the season."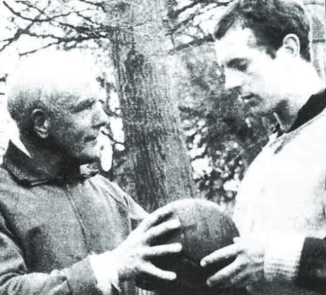 Stubbs (right), pictured by Trainer Harry Topping
Once the move had been agreed with his previous club, Stubbs settled into his new surroundings almost immediately, even if his arrival prompted some concerns from a few of his teammates early on.
"From day one it went quite well, even after getting a bit of stick from the local players I had come to play with.
"When I left Birmingham, I took all my kit that they had supplied me with, although I was later told that you weren't supposed to do that. So there was me, in this very flash kit, and with brand new boots.
"As we were doing our run around pitch before training, I could hear Tommy Northcott and Ernie Pym saying 'Look at his gear – There will be no money left to buy stuff for us!'
"I put their minds at rest!"
Robin wasted little time making an impact on the field, as he relished the opportunity to play on a weekly basis. After netting in his second game for The Gulls – a 4-1 win at Hartlepools United – he went on to establish himself as one of the most feared strikers in the division, with his 24 goals from 34 games helping United finish in 6th position.
"We played quite well but didn't quite get promotion, but that era was a good time to be playing," he recalls.
Unfortunately the following campaign was an ultimately disappointing one for the side – despite the forward's 39 league and cup goals – with an 11th-placed finish eventually costing Webber his job.
It was January 1965 that produced one of the proudest moments in the club's history though, as Torquay went toe-to-toe with one of the country's finest sides of the 1960s – Tottenham Hotspur.
Stubbs, of course, would play a starring in the historic cup-tie at Plainmoor, as well as the subsequent replay at White Hart Lane.
"I always tended to look forward to big games," he recalls.
"I had already scored against Spurs, and beaten them, when I was at Birmingham.
"I didn't let them have an easy time, and whole team seemed to push themselves, and we played three levels above ourselves that day."
As most Torquay fans will already know, an official attendance of 20,000 packed into Plainmoor to watch Bill Nicholson's Tottenham side look set for a place in the FA Cup 4th Round, leading 3-1 with only minutes remaining.
That was though, discounting the actions of Robin, who bagged a stunning brace in the dying stages to secure his side a replay at White Hart Lane.
Had the game gone on any longer though, the likes of Jimmy Greaves, Alan Gilzean and Cyril Knowles may not have had their second opportunity to put things right.
"I was great. Although there was a bit of apprehension, it is always nice when you are lower club as it creates lots of excitement.
"It just goes to show that if you really go for it, you can beat teams like Spurs, which we nearly did."
Nicholson's men, who just three years earlier had become the first 20th century side to achieve the league & cup 'double', may have won the replay 5-1, however Stubbs again looked right at home on the big stage, netting the goal of the game to temporarily draw Torquay level.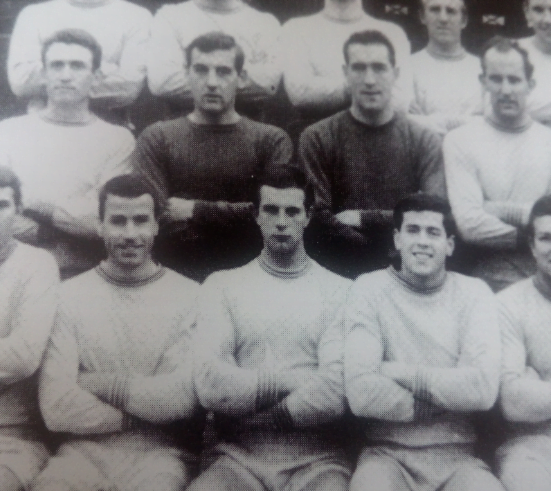 Stubbs (centre, bottom row), pictured with teammates during the 1964/65 season
Although those exploits never generated a return to the higher echelons of the game for United's star striker, success was to follow under the guidance of a new manager a year later.
"Frank O'Farrell came in, and although he changed the way the team played, he knew what he was doing," said Robin.
"He said he knew he had players like me and Tommy who would score goals, and we had a good team at that time."
Aided by a number of new arrivals, O'Farrell's side strode towards the top of the division, and as they headed towards their final fixture at Darlington, they knew one more victory would secure them a place in the third tier.
Once again it looked like Stubbs would provide the finishing touch, however this time a linesman's flag put the party on hold, with his brilliant 25-yard volley ruled out.
As it happened, results elsewhere the following week secured promotion for United, with Robin proving equally lethal in the higher division.
After battling it out at the top end of Division 3 for the next three seasons, there was sizeable disappointment amongst the club's supporters, when at the end of the 1968/69 season, new boss Allan Brown accepted the advances of Westcountry rivals Bristol Rovers, paving the way for Stubbs' Plainmoor departure.
"I never wanted to leave. We had a tough season, and didn't quite make promotion, but John Rudge came in towards the end of the season and I thought that was great.
"John was a really nice bloke, and we hit it off straight away. I thought it would be really good for the following season.
"As soon as the season finished though, I got a phone call saying Bristol Rovers were interested. I blame myself a bit, perhaps I should have stayed, but I felt pushed out and took offence.
"I thought it was only a short way away, so I could always come back and spend my time in Torquay.
"That was the only reason I left."
Although never feeling completely at home at Rovers, 32 goals in 93 league games represented good value for the Eastville side.
"I never really felt like a Bristol Rovers type of player, but I still scored goals up there for them.
"I came back to Plainmoor in a league game, and I will always remember that.
"It was a very strange experience, as they were all trying to kick lumps out of me!"
Unfortunately for Robin, injuries began to take their toll, and although no longer at the peak of his powers, when a relegation threatened Torquay came calling in early 1972, it was an opportunity the player couldn't turn down.
"I had a bad knee injury which wasn't treated well, and I said to myself that if my knee went one more time I would decide that would be it.
"By time I was back, the club was trying to avoid relegation, but I came back because I wanted to help the team.
"Injuries caused me to finish playing, and that was the end for me in professional football, which was disappointing."
After retiring, Stubbs soon made it clear that a career in management wasn't for him, although a spell in coaching did provide local youngsters with opportunity to benefit from the great man's experience.
Then last December, Torquay United provided him with the ultimate recognition of his contribution, as he was appointed as an Honorary Life President of the club.
"It was a bit of a surprise, but I was really pleased and I really enjoy it.
"One supporter came up to me, and said that seeing me play got them interested in coming to watch Torquay, which was nice."
Remaining amazingly modest despite his almost Herculean efforts in a Yellow shirt, Robin is quite clear as to why he always so happy to remain at Plainmoor during the best years of his footballing life.
"We were always doing well, and we were on the border line of going up.
"I was sold by the place, and it was a good place socially too.
"As soon as I drove into Torquay, overlooking the beaches, I couldn't resist it. That was the reason I moved there, I fell in love with the area!"
For the fans that were lucky enough to have seen him in action, that affection was undoubtedly reciprocated.
Thank you, Robin – The Prince Of Plainmoor!
Torquay United AFC have launched the Former Players Association with the aim of recognising those who have contributed to the club on the field over the years, with the focus on being able to collect, preserve, and share the heritage of the club as a whole, in order to give it a platform for future success.
Over the last couple of seasons other ex-players, such as Jim McNichol and Paul Hall, have also been involved with the club and welcomed back to Plainmoor.
It is the club's aim to establish itself within the heart of the local community, and the creation of the FPA is seen as a very important step in that process.
Any former players who are interested in joining can do so by contacting the club via yellowarmy@torquayunited.com.