United captain Asa Hall has given his assessment of his team's excellent start to the National League season, before looking ahead to Sunday's exciting FA Cup 1st round encounter, as League 2 side Crawley Town head to Plainmoor.
For Hall, it's a case of acknowledging that there is still a long way to go yet, whilst also recognising the hard work that has brought about the superb set of early results.
"It's the perfect start really," began The Gulls' skipper.
"To be fair, we should have beaten Eastleigh too really and had maximum points. There's a real togetherness in the changing rooms, and I think that's really made an impact. Everyone has bought into how the Gaffer plays, and wants to play, and we've produced some good football so far.
"We all know that there's barely been any football played really in the grand scheme of things, but it's nice to have the points on the board, and hopefully we can keep putting those points on, and create some distance between the top and the rest of the pack really, That's the plan.
"Everyone is really excited by the opportunity and the start, but we're all realistic that there's a lot of football left."
After a slight delay in his own start to 2020/21, Asa has once again established himself within the team's engine room, with his calming influence and leadership qualities helping to bring out the best in the talented individuals around him.
"I had a few little niggles after coming back following such a long break, it took me a while to get over those, but I've been chomping at the bit to get back playing. We've had a long break and it's made football that little bit more special.
"I've hit some good form, and although the lads had been doing great without me, I'm glad to be back on the pitch and give that extra bit that the team needs. I've been pleased with my own performances so far."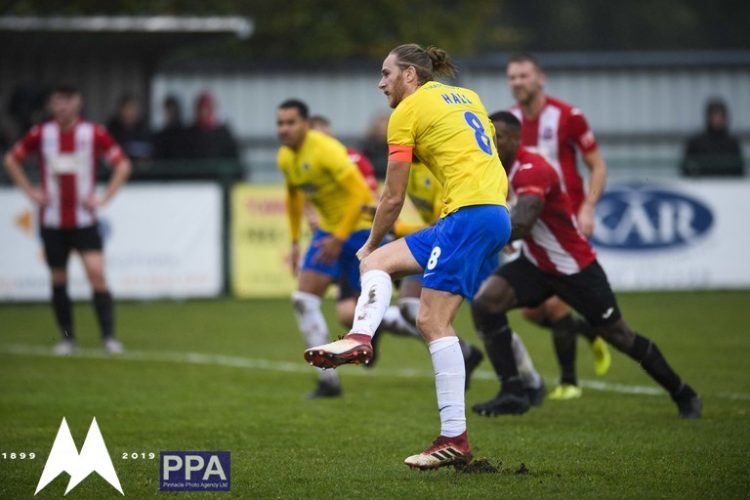 With Hall's penalty opening the scoring in the previous round, United won't have to look far for spot-kick volunteers should the need arise again on Sunday, with the scrapping of replays ensuring that a winner will be declared on the day.
"It's not a free goal, but it's a free opportunity!
"When Wrighty is not on the pitch I fully back myself to take penalties. We had Reidy at the club who had taken them for so long, so it was nice to get the chance to get one and put it away."
That goal from 12 yards at Sholing FC saw Asa open his own seasonal account beyond doubt, after the much-debated late winner against Chesterfield the previous week. Typically though, the captain's focus remains to play his part in the team's successes, rather than celebrating his own efforts.
"It's been forgotten about really, whether it's gone down at my goal or Ben's goal, it doesn't really matter, the main thing was getting the win that night.
"Seeing it back, it probably hit Ben last – I was on my neck when the ball was in the back of the net! It was nice to get the three points, and we've had a few late winners, so that's always nice as well."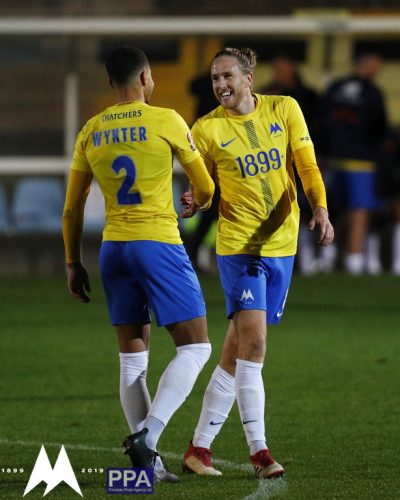 This Sunday, the club will be taking on Football League opponents in a competitive fixture for the first time in over six years, and although there is no doubting the visitors' own strengths, Hall is adamant that his side will not be overawed by the occasion.
"Growing up, everyone wants to play in the FA Cup, it's always an honour to play in it and get through a few rounds. Everyone has their eye on the 3rd round when the big teams come in, so it will be a tough game against Crawley, but we fully back ourselves and our style of play, to give anyone a good game. It will be a good test, and everyone is really looking forward to it.
"The Gaffer, Downsey, and all the staff gives us all the details on the opposition, but we always refer back to it being all about us on the day, and how we turn up and approach the game, and that's exactly what we'll do this weekend.
"It's nice that they're in the league above and it's nice to test yourselves against higher opposition. Obviously quite a few in the squad have league experience in their careers, and some haven't, so it will be a good test for some, and a good experience. It's always nice to be able to have the opportunity to knock a League team out of the competition, and go and get an even better in the next round. we're certainly not fearful for Sunday."