Having established himself in The Gulls' starting line-up recently, Klaidi Lolos is looking to build on his recent performances by helping secure another positive result at Wrexham on Saturday.
On what was a hugely successful Community Day at Plainmoor off the pitch, Lolos played a key role on it, as Gary Johnson's side rode out impressive winners against King's Lynn.
"I'd say personally that was probably my best game I've had so far, since I've been at the football club," began Klaidi.
"I've been in decent form, especially the last couple of games, I also think it's down to our teammates as well. Everyone tries to help everyone here, every single time.
"In general, I think we stuck to the plan well on Saturday, and we needed to get a result. We needed to give the fans something to cheer about, we were fully aware that we had to get the win, because obviously we had a run of games that didn't go our way, so putting things right on Saturday against King's Lynn was very important."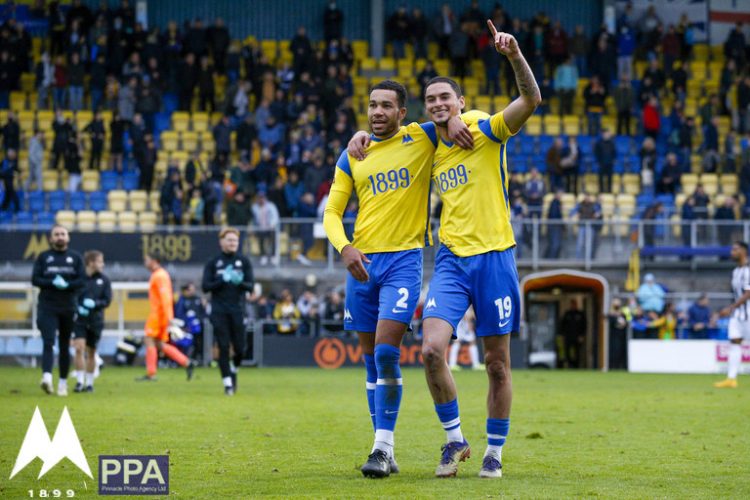 One of the many positive aspects from Saturday's victory was the promise shown by Torquay's new-look forward combination, and Lolos was pleased to see new colleague Sinclair Armstrong get off the mark on his debut, ahead of another tough challenge in North Wales at the weekend.
"Obviously he joined in last week, and we already knew what he was about and heard a few things already. We complimented each other well I thought on Saturday, we used each other's strengths, and there's more to come. He had a good debut, scored on his debut, and got man of the match, so I'm pleased for him, and hopefully that continues.
"Wrexham away is not a bad away game, and obviously one where I'd like to get on the scoresheet, but first and foremost, the team comes first, and if we get the win, I'll be even happier."
The passion that the former Plymouth Argyle frontman displays when celebrating a goal – whether it's his own, or a teammates' – has already gone a long way to endearing him to the Yellow Army, following his arrival across Devon in the summer.
"I've always been like that from young, every single game I've played, I've come here to win. I'm sure everyone that plays tries to win, no-one really plays football to lose.
"When we do score a goal, or when things go right and we do get a win, there's no better feeling."