Eastleigh 3
(Rendell 25′ pen, Hollands 29′, Partington 36′)
TUFC 2
(Keating 46′, Andrews 49′)

Despite a stirring fightback, Eastleigh came out on top at the Silverlake Stadium on Tuesday evening, with three first-half strikes seeing them run out 3-2 winners.
A 25th minute penalty from Scott Rendell gave The Spitfires the lead, before another former Gull, Danny Hollands made it 2-0 four minutes later. A stroke of misfortune saw them fall 3-0 behind on the 36th minute, as Joe Partington's effort took a heavy deflection before ending up in the back of the net. United responded in fine style after the break, with early second half goals from Ruairi Keating and Jake Andrews threatening a comeback of epic proportions. However, despite coming close on a couple of occasions, it was the home side who held on for all three points.
United boss Gary Johnson made three changes to the side that went down 1-0 at Chorley, with Lucas Covolan, Jean-Yves Koue Niate and Keating taking the places of Shaun MacDonald, Joe Lewis and Kalvin Lumbombo-Kalala.
United started the game well, with a couple of decent forays into the Eastleigh only let down by the final ball into the box.
The home side were the first to create a true opening on ten minutes.
Sam Smart fired in a low shot which was parried and then half-cleared by the United defence, leaving Cavaghn Miley to fire the loose ball well over from 20-odd yards out.
Both sides then traded chances in their bids to break the deadlock.
In the 17th minute, Marcus Barnes was bearing down on goal and about to shoot, when Koue Niate arrived in the nick of time with a vital challenge inside the box.
Two minutes later up at the other end, and Andrews sent in a superb ball into the box that just evaded Keating at the near-post from six yards out.
Another tempting ball into the box on 23 minutes did find its target, but rather than trying his luck at goal, Saikou Janneh headed across goal, with the required support not on hand.
Having carved out two promising chances, United were made to pay two minutes later.
With Torquay's backline appealing for offside, their disappointment was compounded when Andrews was adjudged to have handled the ball inside the box. Rendell picked up the ball and fired confidently past Covolan.
Reeling from going behind after starting strongly, The Gulls didn't have time to catch their breath before they were two down.
After breaking upfield, Hollands saw his initial effort blocked, but with the ball coming straight back to him, he had time to look up and fire his second effort high into the net to double his side's lead.
In the 36th minute it was 3-0. There appeared to be little danger as Partington's strike looking decidedly off-target, before a wicked deflection off Andrews saw the ball take the touch it required to end up in the back of the net.
Despite creating a couple of decent opportunities themselves, trailing by three goals at the interval left Johnson's men with a huge task in the second period.
The second half couldn't have begun in better fashion for The Gulls, as they reduced the arrears to 3-2 within four minutes of the restart.
First, Robbie Cundy did well to pick out a pass to Ben Wynter. Wynter's ball into the box was perfect for Keating, who headed in to make it 3-1.
The image of Keating grabbing the ball out of the back of the net and running it back to the halfway line confirmed United were a team in a hurry, and three minutes later they reduced the deficit further.
This time, excellent work from Janneh down the wing saw him pick out Andrews in space, with the midfielder taking aim and firing home a superb effort from distance. Suddenly it was game on.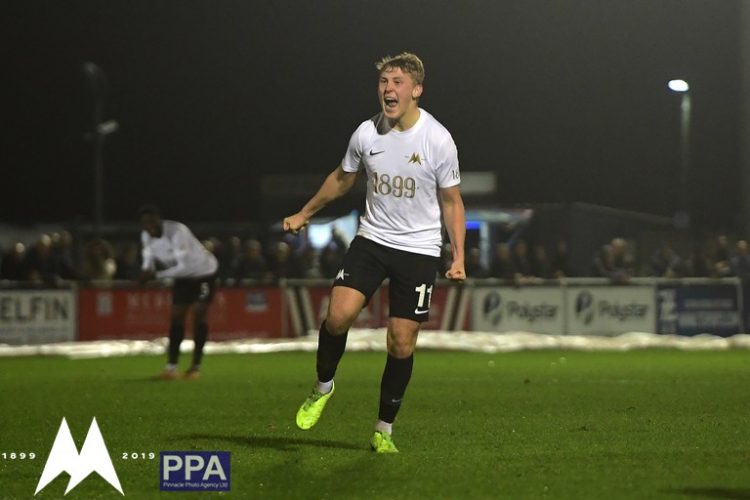 Eastleigh, stunned but still dangerous, spent the next fifteen minutes soaking up pressure whilst attempting to hit United on the counter.
In the 65th minute, Torquay came agonisingly close to pulling themselves level. Keating's persistence saw him win a dangerous free-kick on the edge on the box, and from another excellent Andrews delivery, it was the Irishman who rose highest to direct the ball goalwards. Home 'keeper Stryjek though, denied him with a marvelous tip over the bar to keep his side in front.
Five minutes later, Janneh, a willing runner all evening, showed excellent close control to find Andrews in space. The United midfielder looked up, took aim and curled his effort narrowly wide of the post.
As the game wore on, the game began to become stretched, with both sides chasing the next crucial goal.
As much as United pressed, they couldn't quite fashion the chance they needed to save themselves, and in the 88th minute, the match was nearly put beyond doubt as a swift break found Rendell in space. His shot though, was well wide.
Eastleigh did just enough in the final stages to hold off United's valiant efforts at completing their comeback, and so the season moves on to Plainmoor on Saturday, with Stockport County the latest side to tackle Johnson's men. Tickets are available here.
Eastleigh: 1. Max Stryjek, 2. Joe Partington, 4. Rob Atkinson, 5. Reda Johnson (14. Tom Bearwish, 32′), 8. Jack Payne, 9. Scott Rendell, 11. Sam Smart, 17. Cavaghn Miley, 19. Danny Hollands (c), 22. Charlie Seaman, 23. Marcus Barnes (10. Tyrone Barnett, 73′). SUBS NOT USED: 13. Ross Flitney, 16. Ben Scorey, 21. Lewis Beale.
Yellow Card: Hollands (64′), Partington (75′)
TUFC: 28. Lucas Covolan Cavagnari, 2. Ben Wynter, 4. Kyle Cameron (c), 5. Jean-Yves Koue Niate (6. Joe Lewis, 61′), 7. Ruairi Keating, 11. Jake Andrews, 15. Matt Buse,  25. Robbie Cundy, 26. Saikou Janneh, 34. Ben Whitfield, 37. Ramarni Medford-Smith (20. Kalvin Lumbombo-Kalala. 78′). SUBS NOT USED: 1. Shaun MacDonald, 9. Manny Duku, 18. Olaf Koszela.
Yellow Card: Buse (39′), Niate (58′), Cameron (67′)
Attendance: 1,888 (166 away)