TUFC 5
(Janneh 7′, 82′, Reid pen 24′, 68′, Keating 73′)
Aldershot Town 1
(Bettamer 60′)
United got back to winning ways, as they recorded an emphatic victory over Aldershot Town to ease their way into the Buildbase FA Trophy 2nd round.
First-half strikes from Saikou Janneh and Jamie Reid, from the penalty spot, put Torquay firmly in charge at the break. A deflected effort from Mo Bettamer threatened to drag the visitors back into proceedings, however United held their nerve to finish strongly with further goals from Reid, Ruairi Keating and Janneh to round off an excellent afternoon's work.
Manager Gary Johnson rung the changes following last week's 2-1 defeat at Harrogate, with new signings Lloyd James and Aaron Nemane joining Shaun MacDonald, Jean-Yves Koue Niate, Matt Buse, Janneh in the starting line-up. This meant places on the bench for last week's starters Lucas Covolan Cavagnari, Robbie Cundy, Amrit Bansal-McNulty and Kalvin Lumbombo-Kalala, whilst Connor Lemonheigh-Evans and Jake Andrews missed out with knocks. Olaf Koszela made up a six-man bench, however injury and loan restrictions meant that there was no place in the matchday squad for the likes of Asa Hall and Ramarni Medford-Smith repectively.
A strong start by Torquay saw Aldershot pinned up against the Babbacombe end from almost the first whistle, and the Yellow Army didn't have to wait long for the first goal to arrive.
After showing a fine combination of persistence and skill to win the ball down the right-hand side in the seventh minute, Janneh jinked his way into the box on his way to recording his first goal since his return to Plainmoor.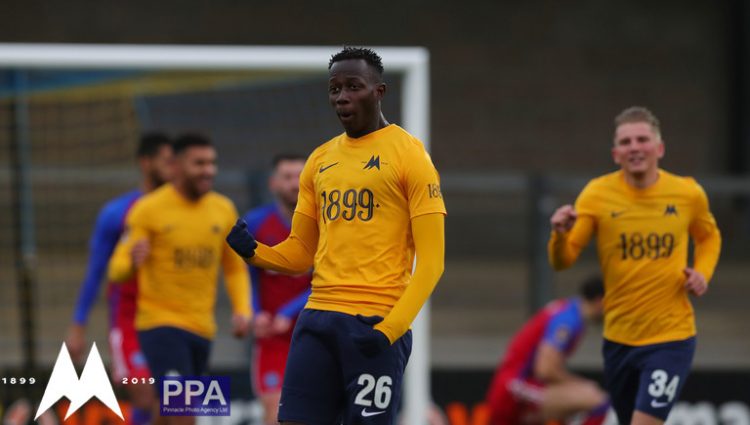 Despite the visitors' best efforts, United always looked well capable of extending their lead, and after Janneh's one-on-one failed to produce the expected second goal on 15 minutes, Johnson's side were presented with an even better opportunity from the penalty spot nine minutes later.
Ben Wynter showed typical skill inside the box to outwit the visiting backline, with a trailing leg leaving the referee with no option but to point to the spot.
Reid, confident as ever, sent the 'keeper the wrong way to double his side's advantage.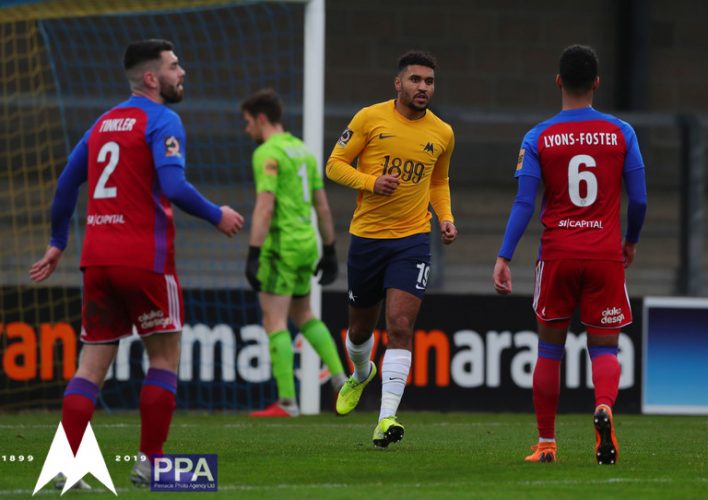 On 31 minutes, Ben Whitfield's workrate, along with a kind bounce, saw the United winger in on goal. This time Shots  goalkeeper Mitch Walker came to his side's rescue, as he spread himself to prevent an even greater deficit.
The visitors were though, beginning to rally themselves, and a long ball forward moments later caught Torquay's backline out. Bettamer acted on the invitation presented to him, but sent his effort wide, with the onrushing MacDonald looking back with relief.
Aldershot's improvement gathered pace after the restart, although United captain Kyle Cameron came within inches of powering home a 54th minute header from a corner, with Walker's fingers tipping the ball onto the post.
Six minutes later, it was 2-1.
The ball worked its way into space towards Bettamer on the left-hand side, but with right-back Wynter blocking the route to goal, it looked as though United had dealt with the danger. However, not for the first time in recent weeks, the ball took a wicked deflection off a Yellow shirt and wrong-footed MacDonald on its way into the net.
Now came a real test of resolve for Johnson's side – and how well they responded.
Debutant Nemane had already won The Yellow Army's admiration with a spirited display on the right wing, before showing excellent close control and trickery along the touchline to power past a number of retreating Aldershot players. After squaring the ball across the 18-yard line for Janneh to tee-up strike partner Reid, United's top scorer fired low into the net to make it 3-1 in the 68th minute.
With the two-goal lead restored, Nemane left the field to rapturous applause four minutes later. Barely 60 seconds later, his replacement made a sizeable impact of his own.
Lloyd James, who had also enjoyed an impressive debut, picked up a loose ball and slipped Keating in on goal, with the Irishman sliding the ball past Walker to make it four.
Eight minutes from time saw the final gloss added to a thoroughly enjoyable winters' afternoon at Plainmoor, as Whitfield's pressing of Myles Anderson forced a backpass which Janneh latched onto, before firing past the stranded 'keeper and into the net.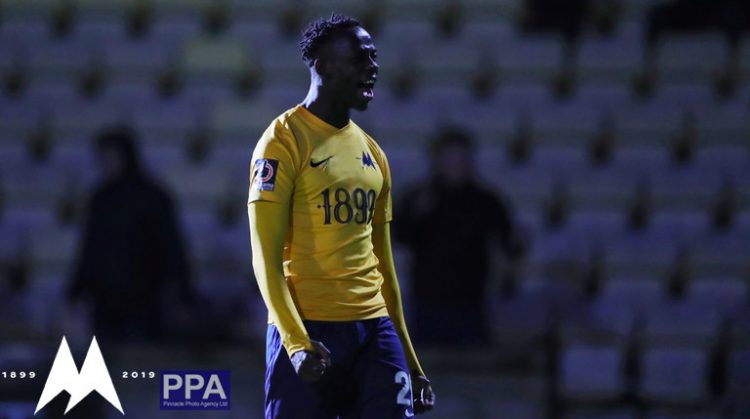 So with United safely into the 2nd round draw, it's a return to the nitty-gritty of National League action next Saturday, with Chesterfield the next visitors to Plainmoor. Tickets are available here.
TUFC: 1. Shaun MacDonald, 2. Ben Wynter, 4. Kyle Cameron (c), 5. Jean-Yves Koue Niate, 6. Joe Lewis, 15. Matt Buse, 19. Jamie Reid (21. Amrit Bansal-McNulty, 80′), 26. Saikou Janneh, 27. Lloyd James, 30. Aaron Nemane (7. Ruairi Keating, 72′), 34. Ben Whitfield (18. Olaf Koszela, 83′). SUBS NOT USED: 20. Kalvin Lumbombo-Kalala, 25. Robbie Cundy, 28. Lucas Covolan Cavagnari.
Yellow Card: Niate  (11′), Lewis (75′)
Aldershot Town: 1. Mitch Walker, 2. Robbie Tinkler, 3. Lewis Kinsella, 4. Dean Rance (c), 5. Myles Anderson, 6. Kodi Lyons-Foster, 7. Alefe Santos (14. Aaron Eyoma, 69′), 12. Alfy Whittingham (9. Shamir Mullings, 81′), 19. Mo Bettamer, 26. Craig Tanner, 34. Jack Powell (24. Lewis Walker, HT). SUBS NOT USED: 8. James Rowe, 13. Ryan Hall, 15. Alex Finney.
Yellow Card: Kinsella (62′)
Attendance: 1,068 (65 away)