United 6
(Little 5′, Wright 9′, Sherring 21′, Nemane 36′, Lemonheigh-Evans 53′, Cameron 83′)
Yeovil 1
(Skendi 49′)
Match Sponsored by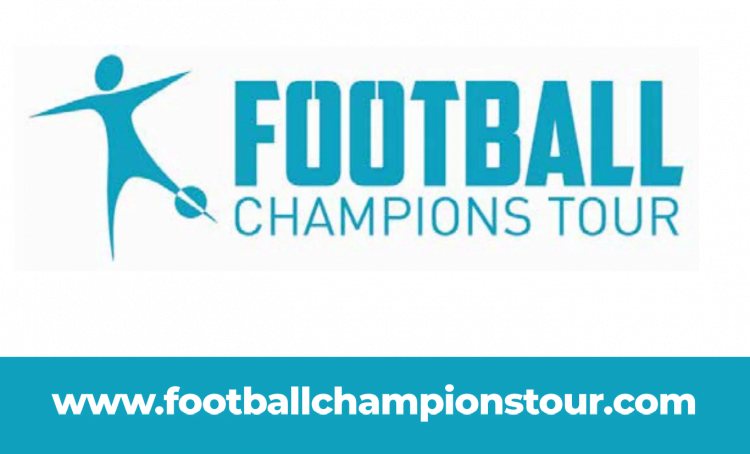 It was a case of six of the best for Torquay United as they put Yeovil Town to the sword on Boxing Day, following a superb 6-1 victory at Plainmoor.
4-0 up at the halfway point after goals from Armani Little, Danny Wright, Sam Sherring and Aaron Nemane, Abdi Skendi's early second-half effort for Town was soon overshadowed, after Connor Lemonheigh-Evans and Kyle Cameron added further goals to make it 6-1.
Manager Gary Johnson made three changes to the side that lost 1-0 to Dagenham in their last league outing, with Fraser Kerr, Matt Buse and Jake Andrews replaced by Sam Sherring, Dean Moxey and Little.
The game wasn't even a minute old when United won their first corner, and although it amounted to nothing more than a scuffed shot wide by Ben Whitfield, it did serve as an early statement of The Gulls' intent.
The Yellow Army didn't have to wait long for the deadlock was broken though.
After being fed the ball by Connor Lemonheigh from the left-hand side, Little picked up possession and drove towards goal before being uprooted by Charlie Lee on the edge of the box. The punishment for Lee was a yellow card, however his team suffered even greater, as Little picked himself up and slammed home a delightful 20 yard free-kick home past Adam Smith's left hand.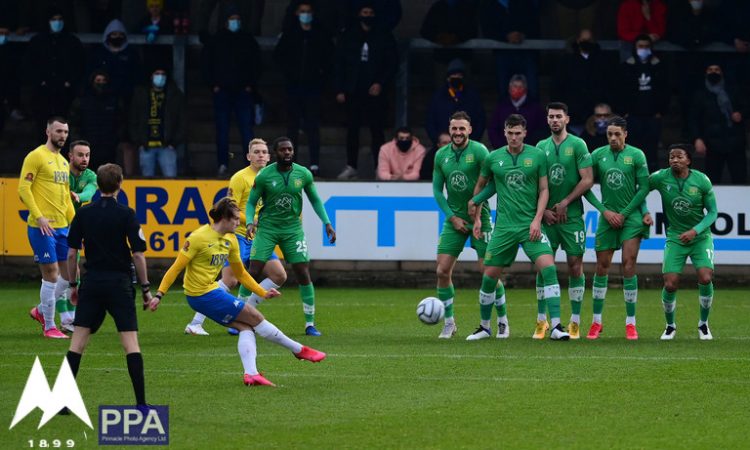 If that was a great start, it was about to get even better.
Clearly stung by an inability to take their chances during their last home game, the men in yellow doubled their lead just four minutes later.
Whitfield's left wing cross initially looked to have a little too much on it as travelled deep into the opposition box, however Wright was alive to the opportunity, and reacted quickest, by sending in a right-footed volley which beat Smith inside his near-post to make it 2-0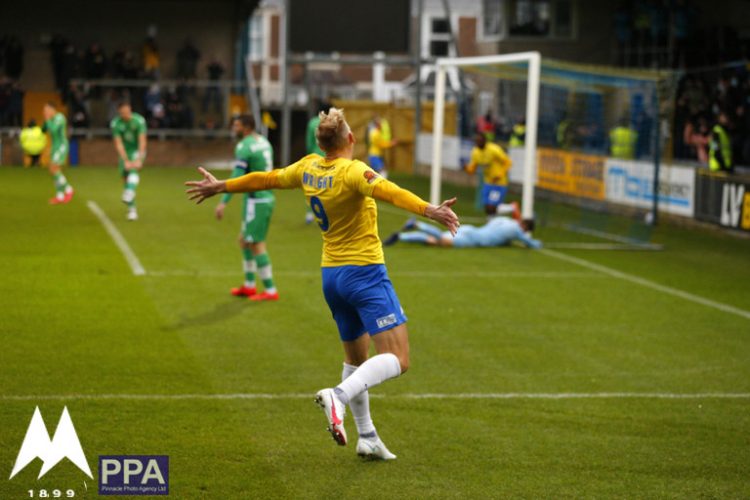 Far from sitting back on their advantage, Johnson's men just kept on going, and goal number three wasn't far away.
Nemane's run down the right, and subsequent determination to chase down a seemingly lost cause, earned his side a corner. Lemonheigh-Evans' delivery was just what Sherring was looking for, and although the ball was originally bound for a different corner of the net it eventually ended up in – it was dragged over the line by a retreated defender – his firm header gave him every right to claim United's third.
The only blip from in an amazing first half was the sight of Little leaving the field early through injury – Wright was to follow soon after – however their teammates remained unperturbed and swiftly went about making it four.
A long ball down the right-hand side initially seemed to be merely a footnote ahead of a goal kick, however substitute Josh Umerah managed to hook his right foot round the ball, and with neither goalkeeper nor defender taking on the responsibility for the loose ball, Nemane nipped in to dart round the bewildered glovesman and make it a scarcely believable 4-0.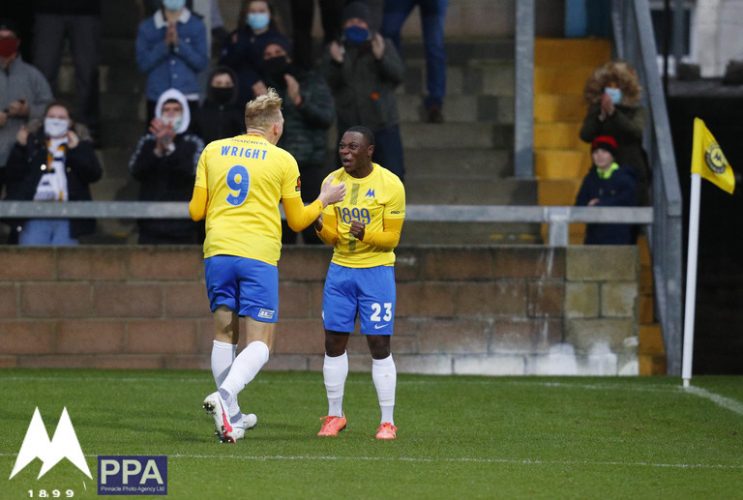 Having applauded fiercely on four occasions already, the Yellow Army savoured the opportunity to give their team a standing ovation at half time, as United headed for the dressing rooms following a first-half masterclass.
Needless to say, the second period had a mammoth task in matching those heights, however the action continued unabated.
Given United's dominance, it was with a measure of disappointment that the visitors got themselves four minutes after the restart.
After Joe Quigley struck a post, the resulting long throw from the right somehow managed to make its way through to Skendi, who bundled the ball over the line from point-blank range.
Appearing almost insulted by the apparent question to their authority, Torquay swiftly went up the other end and re-established their four-goal cushion in the 53rd minute.
A superb central run by Nemane had Town defenders backing off, and with The Gulls' winger showing admirable vision to pick out Whitfield, it was left to his fellow wideman to drive a low ball across the face of goal that Lemonheigh-Evans duly flicked into the net at the near post. 5-1.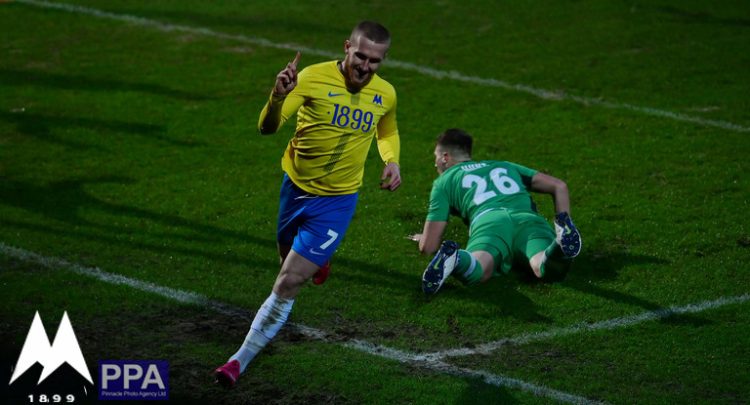 The scoreline may have not have always reflected it, however United continued to push forward in search over even more goals, as their passing game continued to cause the visiting backline problems.
As it was, they had to wait until seven minutes from time before adding another, when Jake Andrews' free-kick from the left touchline met the head of Cameron from six yards out, with the skipper powering his header home to make it six.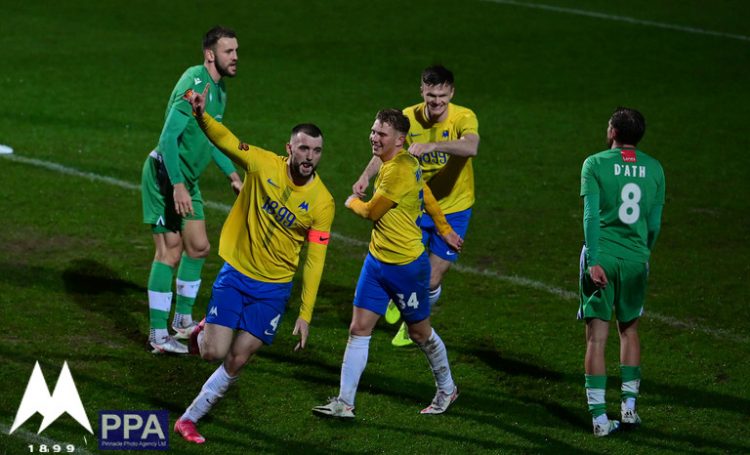 It is typical for this time of year that Johnson and his team won't have long to enjoy this victory though, with the next test at Weymouth just two days away. One thing is for sure though, this festive treat is one the Yellow Army will be recalling for quite some time to come.
Merry Christmas one and all!
TUFC: 1. Shaun MacDonald, 4. Kyle Cameron (c), 6. Gary Warren, 7. Connor Lemonheigh-Evans, 9. Danny Wright (11. Jake Andrews, 39′), 10. Armani Little (35. Josh Umerah, 34′), 12. Adam Randell, 16. Sam Sherring, 21. Dean Moxey (5. Fraser Kerr, 75′), 23. Aaron Nemane, 34. Ben Whitfield.
SUBS NOT USED: 15. Matt Buse, 33. Lucas Covolan (gk).
Yellow Card: Sherring, 32′, Umerah, 89′
YEOVIL TOWN: 1. Adam Smith, 2. Daniel Leadbitter, 3. Carl Dickinson (c), 11. Matt Warburton (14. Courtney Duffus, 34′), 17. Gabriel Osho, 18. Albi Skendi, 19. Joe Quigley, 22. Charlie Lee (8. Lawson D'Ath, 71′), 25. Emanuel Sonupe, 26. Max Hunt, 34. Chris Dagnall (21. Thomas Knowles, 56′).
SUBS NOT USED: 7. Matt Worthington, 23. Harry Palmer (gk).
Yellow Card: Lee, 4′, Dickinson, 66′, Sonupe, 75′, Leadbitter, 83′
Attendance: 1,323