Woking 0
United 2
(Boden, 14′, Lemonheigh-Evans, 15′)
United kept up the pressure at the top of the National League, as they recorded a 2-0 victory over Woking at the Laithwaite Community Stadium on Tuesday evening.
An early double from Scott Boden and Connor Lemonheigh-Evans was enough to seal all three points for Gary Johnson's side, as they reduced the gap at the summit to just one point.
The Gaffer made two changes to the side that recorded that 1-0 win at Sutton seven days ago, with Matt Buse and Boden replacing Armani Little and Danny Wright in the starting eleven.
Torquay wasted little time taking the game to their hosts, as they spent almost the entirety of the opening five minutes inside enemy territory. It wasn't long before they created the game's first chance either, as some marvellous footwork by Lemonheigh-Evans on the left preceded a inch-perfect cross towards Boden six yards out, however Craig Ross came to his side's rescue with a fine double-save to prevent The Gulls taking a fourth minute lead.
Three minutes later and Lemonheigh-Evans was at it again, with a deft header by the penalty spot setting up United's other recalled man, Buse, to send a right-footed half-volley wide of the far upright.
Just as Woking threatened to make some inroads into the possession stakes, a 13th minute free-kick from Jake Andrews provided them with another scare, as his delivery from 35 yards out wide on the left found the head of Sam Sherring, who headed narrowly over.
The warning wasn't heeded though, and barely 120 seconds later, the home side were 0-2 down.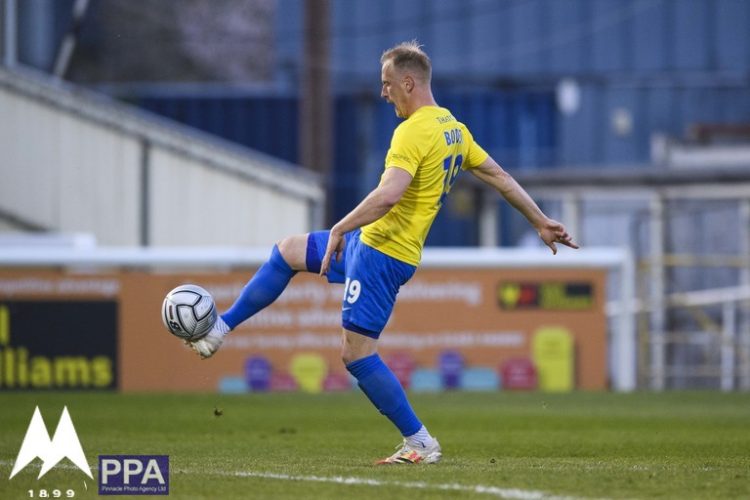 First, a high ball lofted towards the edge of the 18-yard box forced goalkeeper Ross to act, however a communication breakdown saw the retreating Kyran Lofthouse collide into him, leaving Boden on hand to chip the ball into the unguarded net from 20 yards out. It was a calm, excellent finish.
Reeling from the setback, former Torquay centre-back Ben Gerring failed to deal with another ball over the top, presenting Lemonheigh-Evans with a one-on-one chance against the home custodian. Apparently unable to believe his luck, the Welshman remained cool enough to jink his way round Ross, before slotting home to double his team's advantage.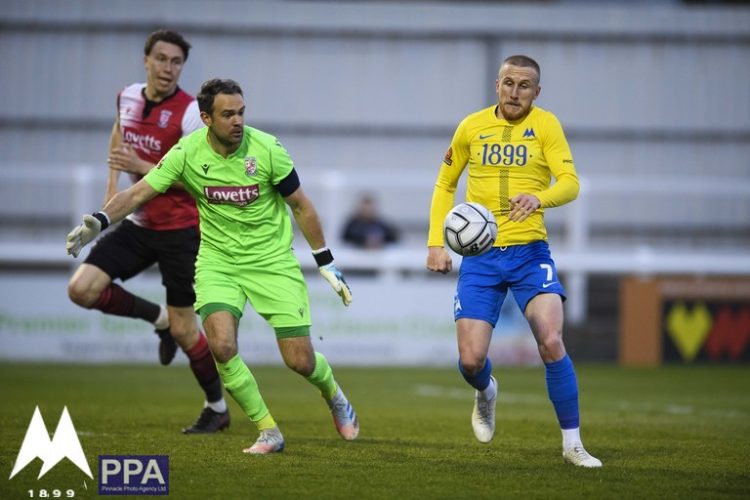 Forced to respond, Woking did apply some overdue pressure onto United's backline thereafter, however Johnson's men held firm in the face of a flurry of aerial balls into the box. After soaking up the best The Cardinals could throw at them, the men in Yellow threatened again either side of the half-hour mark.
A marvellous passing move involving Adam Randell and Buse appeared to have initially stalled, however Lemonheigh-Evans once again worked his magic – on the right edge of the area this time – with some marvellous close control, before feeding Buse with a low pass ten yards out, however the ball missed the far post by the narrowest of margins.
Moments later and Andrews let fly with a firm volley from 25 yards out which called Ross to earn his money again, as he got down smartly to parry the ball down low to his right.
The pattern of the game continued in that manner right up until the interval, however such was the strength of Torquay's performance during their excellent 45 minute showing, it was almost a travesty that the advantage wasn't even more comprehensive at the change of ends.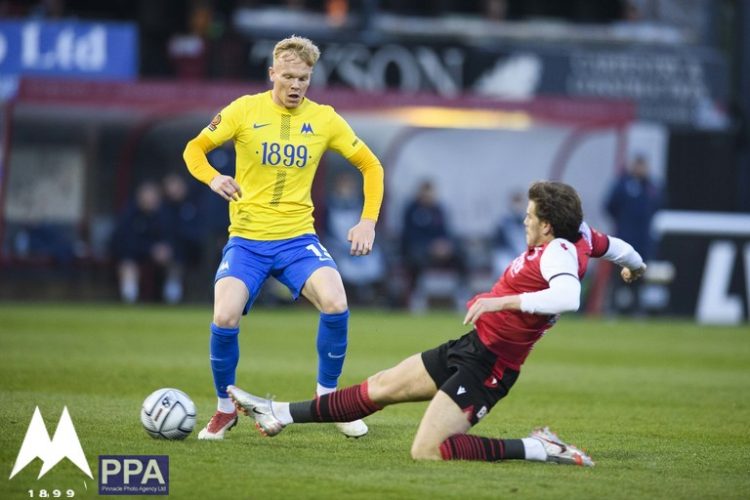 Following the restart, Johnson's charges were again in the ascendancy, with some lovely build-up play not getting the reward it merited, as the final touch just alluded them in and around the Woking penalty area.
Perhaps with that in mind, Randell took matters into his own hands in eleven minutes in, as a loose ball 25 yards out proved to be too much of an invitation to turn down, but alas, his low strike was drilled wide of Ross' right post.
It wasn't until just short of the hour mark that Lucas Covolan was finally called into action, however Kane Ferdinand's snapshot from just outside the area failed to trouble him unduly, as the two-goal lead remained intact.
The 63rd minute saw normal service resumed though, as a miskick from Ross saw United back in possession with minimal effort, with the ever-willing Lemonheigh-Evans eventually hooking his shot over the crossbar as Johnson's side went in search of a third goal.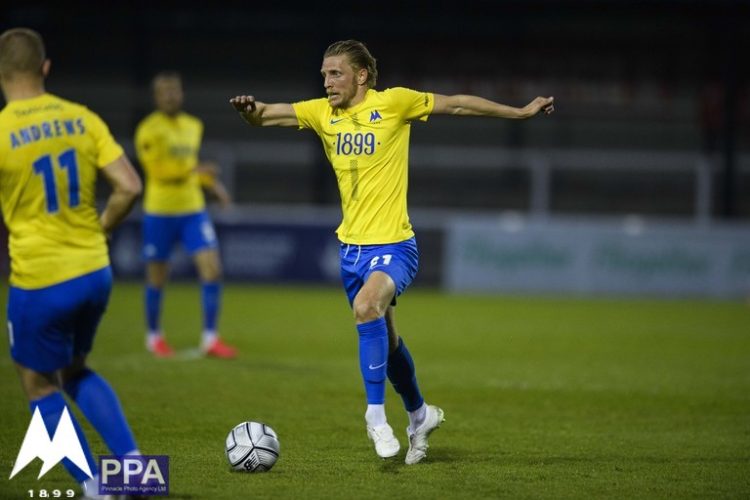 A raft of substitutions did disrupt the flow of the game somewhat, however, the actions of one of those replacements, Josh Umerah, nearly brought about that third goal in the 84th minute, as a superb turn and run from the halfway was eventually brought to a conclusion on the edge of the box, leaving Ross again to deny Buse's follow-up effort.
Despite a quiet evening for The Gulls' goalkeeper, the Brazilian remained alert, and he had to come up with an excellent close range save to prevent any frayed nerves for the watching Yellow Army in the 88th minute, as Torquay saw out the remainder of the match with minimal fuss to record another clean sheet, and more importantly, their seventh win in eight games.
A rare 'double' over The Cards was a superb way to continue their recent run of form, and if they can repeat that over the final eight fixtures, things could get very interesting for United fans come late May.
Plenty of work to do yet though, with Notts County presenting The Gulls with their next sizeable test on Saturday.
Everything to play for!
WOKING: 13. Craig Ross (GK) (c), 2. Jack Cook, 4. Charlie Cooper, 5. Ben Gerring, 6. Moussa Diarra (15. Jack Skinner, 32′), 8. Kane Ferdinand, 9. Jonte Smith (32. Paul Hodges, 74′), 14. John Freeman, 16. Kyran Lofthouse, 21. Tommy Block (24. Leo Hamblin, 38′), 30. Sam Dalby.
SUBS NOT USED: 17. Sam Evans, 27. Joe Leslie.
Yellow Card: Cooper 75′, Cook 88′
TUFC: 33. Lucas Covolan, 2. Ben Wynter, 7. Connor Lemonheigh-Evans, 8. Asa Hall (c), 11. Jake Andrews (25. Billy Waters, 55′), 12. Adam Randell, 15. Matt Buse, 16. Sam Sherring, 19. Scott Boden (35. Josh Umerah, 73′), 21. Dean Moxey (6. Gary Warren, 69′), 31. Joe Lewis.
SUBS NOT USED: 1. Shaun MacDonald (GK), 18. Olaf Koszela.
Yellow Card: Waters 89′