Social Distancing At Plainmoor – FAQs
With fans allowed to return to stadiums – albeit in restricted numbers – TUAFC have published answers to a number of Frequently Asked Questions, to ensure the Yellow Army are well prepared for matchdays at Plainmoor.
Whilst the club are delighted to be welcoming back our beloved Yellow Army back to Plainmoor, it is imperative that we all work together to ensure the stadium remains a safe environment for everyone.
FAQS
I have a season ticket, will I be able to gain entry?
Yes, all season ticket holders have been given priority and will be able to use their new pass to come to all home league games under current SG02 guidance.
I renewed my Season Ticket and received two passes, does it matter which one I bring with me?
Yes, it is very important that all 2020/21 Season Ticket holders bring the latest pass they were issued with, which is titled Season Ticket 2020/21 – SD, to reflect the need for social distancing inside the stadium. The old pass will not gain entry into the stadium.
My pass doesn't have my usual seat number on it, is this a mistake?
No. With social distancing measures in place throughout Plainmoor, some supporters have had to be moved to accommodate these arrangements.  The club have done its utmost to minimise any disruption, and greatly appreciates everyone's co-operation regarding this, and rest assured that once social distancing measures have been relaxed fully, supporters will then be able to return to their usual seats.
Who can be included in my bubble?
When purchasing tickets for matchday, you should only purchase tickets together if you are in the same household, in line with current government guidance. Please see www.gov.uk for the latest advice.
I'm a Popside Ticket holder and I have been allocated a space number, why is this?
Social distancing will be enforced in both our seated areas and terraces. There will be prominent signage around the stadium, with areas clearly marked to ensure everyone knows where they are going. Stewards will advise on where your designated space and block is on arrival.#
What if I am not happy with my seat/space?
For these reduced capacity matches, we are unable to change the seat/space that you have purchased a ticket for.
Can I pay for a ticket at the turnstile?
No, all tickets must be purchased in advance, via our ticketing website here, whilst phone orders can be placed on 01803 328666.
Can I collect my Season / Match Ticket at the ground on Matchday?
NO tickets or passes will be available for collection on matchdays – NO TICKET, NO ENTRY.
I was expecting my ticket to arrive in the post / via email, but it hasn't. What should I do?
Email yellowarmy@torquayunited.com, and we will look into this for you.
I haven't received my SMS ticket, how can I get my ticket?
All SMS tickets were also sent via email. If you have not received either, please email yellowarmy@torquayunited.com.
Do I have to print out my individual match ticket?
No, however if you choose to store your ticket on your phone, please ensure your mobile is sufficiently charged. We would also strongly suggest taking a screenshot of your QR code, in the event of Wifi / mobile data being unavailable.
If you choose to print your ticket, please ensure the QR code remains free from creases / blemishes, and refrain from folding around this area.
I have printed my ticket twice, will I still be able to get in?
Each season ticket and matchday ticket has a unique code, upon entrance these will be scanned, if your ticket has already been scanned then you will not be able to gain access into the stadium.
I do not have a computer or an email address, can I still get a ticket?
Yes, you will be able to order a Matchday ticket over the phone, subject to the match having availability, by calling the club on 01803 328666. tickets can also be sent your ticket to your home address via special delivery to ensure you have your ticket on time.
Will away supporters be allowed to attend these reduced capacity matches? 
No, away supporters will not be able to attend these matches until further notice.
Can I have a refund on my ticket if I can no longer attend? 
If a supporter is purchasing an individual Match Ticket and can no longer attend, they must notify the club at least three days prior to matchday and this ticket is NOT TRANSFERRABLE under any circumstances.
Can supporters who live in Tier 3 areas attend matches at Plainmoor? 
No, at this present time, travel from Tier 3 to Tier 2 areas in order to attend a football match is not permitted. Supporters should refer to the latest UK Government restrictions, both local and national, when considering travelling between areas in different Tiers (as designated by the Government from time to time.)
Before I arrive at the stadium, do I need to do anything regards to self assessing for Covid-19 symptons?
All attendees should undertake a personal risk assessment before leaving home. Supporters must not attend if they are feeling unwell or suffering from COVID-19 symptoms – which include a new or persistent cough, high temperature, sore throat, headache, or a loss of sense of smell or taste. Those who are self-isolating, or have tested positive, should not attend.
PLEASE ENSURE BEFORE YOU LEAVE THAT YOU CHECK YOU HAVE YOUR SEASON TICKET OR MATCHDAY TICKET
How long do I have to wear my face mask for?
Face masks / coverings must be worn at all times once inside the stadium.
What happens on arrival at the stadium?
Please ensure that you arrive in plenty of time to go through the entry procedures, including a temperature check, and note that you will only be granted stadium entry through your specified turnstile.

The wearing of face coverings is a condition of entry. Coverings are to be worn while in transit into and out of the stadium, on the concourses, and in the toilets
Please avoid bringing bags with you to the stadium so as to avoid delays on entry. If you absolutely must bring a bag with you, please make sure it is transparent for ease of security check.
What time can I enter the stadium?
The turnstiles open for 3pm kick offs from 1.30pm and for 7.45pm evening kick offs from 6.30pm. Please plan your journey in advance and allow yourself plenty of time to arrive for the fixture in order to reduce queuing at the entry gates.
Can I access the stadium after kick-off?
No. Turnstiles will shut at kick-off time, and no entry will be granted after this time. Please ensure that you arrive at least 15 minutes before kick-off.
What do I do if I forget my season ticket/Matchday Ticket? 
We ask all supporters who are attending the game to make sure they have their season ticket before leaving home as it is your only means to enter the stadium.
Where do I go on a matchday if I have a ticketing query? 
The ticket office and reception will be closed on a matchday, however our staff and stewards will be available to assist you on arrival at the match.
Can I use someone else's ticket to enter the ground? 
No, this is vitally important in protecting the health and safety of all supporters and staff on matchday. If a supporter has a season ticket or matchday ticket it must be the same supporter who comes to the game.
Does it matter which turnstile I go to?
Yes. You will only be able to access the stadium if you use designated turnstile stated on your ticket. Please arrive in plenty of time to access the stadium, and use the turnstile indicated. Turnstiles 1-4 are located between Bristows Bench and Family Stand (Ellacombe End), turnstiles 5-8 are located at the Popside, whilst turnstiles 9-11 are located between the Wollens Away Terrace (Babbacombe End) and Bristow's Bench.
For entry into Bristows Bench (Blocks C-G) – Please use Turnstiles 1-2
For entry into Family Stand – Please use Turnstiles 3-4
For Popside (Blocks A-C) – Please use Turnstiles 5-6
For Popside (Blocks D-H) – Please use Turnstiles 7-8
For Wollens Terrace & Bristows Bench (Blocks A&B) – Please use Turnstiles 9-11
A plan of the stadium is shown below, which also includes the location of each turnstile (circled), along with a guide to the designated blocks in our terraces: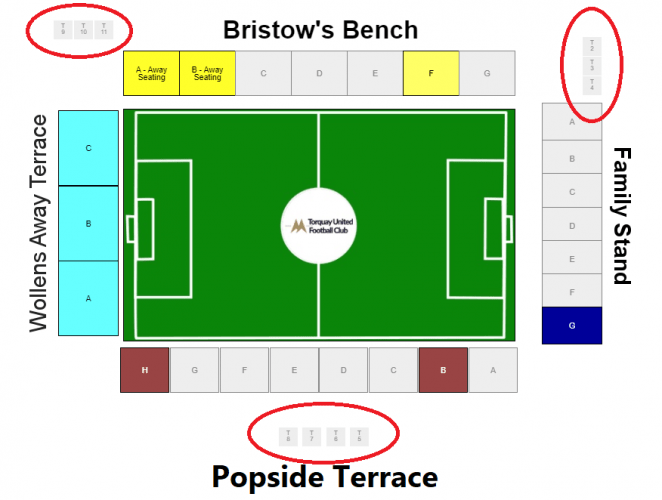 Will the Snack Bars and Hospitality Areas be open?
No, there will be no food or drink on sale at the stadium, supporters will be able to bring a bottle of unopened soft drink into the stadium no bigger than 500ml. Please put any rubbish you have in the bins around the stadium, or take home with you.
Can I smoke at the stadium?
No smoking or vaping is allowed in any area of the ground. Fans are also reminded that they are not permitted to leave & re-enter the stadium for this purpose.
Will the Club Shop be open?
No, the Club shop will be closed, although it remains open online 24/7
Upon arrival can I leave my seat?
If you do need to leave your seat, please wait for a time when the gangway is clear.
At all times and in all parts of the ground, please observe social distancing, taking care to ensure that you avoid contact with anyone outside of your social bubble.
Remain in your seat at all times, except for visits to the toilet.
What happens if a matchball is kicked into the stand?
All fans should refrain from touching the match ball if it is kicked out of play. Ball retrievers are positioned around the stadium, and balls will need to be sanitised before being used again.
What happens at full time?
In the 80th minute of the match, you will be reminded to remain in your designated seat/space. This is in your own, and also the club's, best interests for health and safety reasons. Please ensure you keep socially distanced and listen to the stewards and PA announcements. Stewards will manage the exit row by row within each block from the front to the back of the stand, reducing the flow of people around people. This will mean that people do not unnecessarily have to pass each other on the stairs.
Can I speak to anyone about another query I have?
Email yellowarmy@torquayunited.com or phone 01803 328666. Please note that our phonelines may be busy, however if you leave your contact details on our answerphone service, we will get back to you as quickly as possible.