Whilst Gary Johnson's men are turning on the style out on the pitch, Torquay United AFC would like to pay tribute to a number of long-standing sponsors that continue to support the club off the field.
Here, Mark Bowen of MB Insolvency tells a bit more about his special relationship with The Gulls, with his passion for the club dating all the way back to his childhood visits to Plainmoor…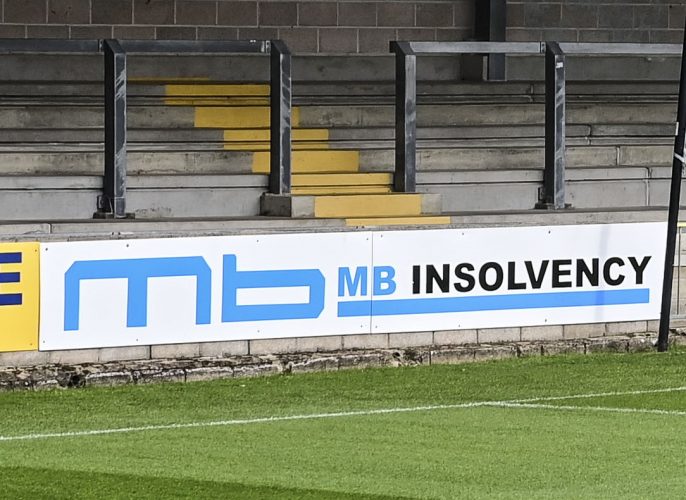 MB Insolvency was formed in 2008 by Mark Bowen. Having previously started his career at the Official Receiver's Office and latterly having enjoyed many years working for several leading specialists in business recovery and insolvency, Mark decided to establish MB Insolvency in order to utilise his wide-ranging experience to provide a quality solution driven service on a friendly professional basis. Mark Bowen has had over 30 years in dealing with insolvency related matters and is supported by a highly qualified and competent team.
The MB Insolvency team have a reputation for providing a friendly accessible approach to client needs, dealing with assignments of all sizes – providing timely solutions in uncertain times. The mission is to preserve businesses, reputations and livelihoods in even the most challenging of situations.
Whether you are a public limited company (PLC), limited company, partnership or individual sole trader MB Insolvency's expertise will provide you with the solution that is right for you.
How did you first get involved with Torquay United?
I attended games with my grandfather, uncles and cousins during my childhood, as they lived in Torquay and I maintained a interest in the club since then. In 2005, I started attending games as my work life had brought me back to the area and I have continued ever since. I first became involved in supporting as a sponsor in 2008 when MB Insolvency commenced, and as my friendships in and around the club had developed.
The club and its management and staff (playing and non-playing) has been actively positive toward my business and therefore it started as, and has continued to be a very, healthy partnership.
What are the advantages of being involved with Torbay's only professional sporting team?
The advantages are the social aspects that the club brings to the community (I have made many new friends at games over the years) both on a personal and professional level. From a sponsorship perspective the exposure is excellent.
How can people get in touch with you, to find out more?
We are acutely aware that many businesses are currently suffering under these extreme circumstances so please call mark on 07920773643 or email mark@mb-i.co.uk for a free consultancy.
For further details on how MB Insolvency can benefit you, visit www.mb-i.co.uk
On behalf of everybody at Plainmoor, thanks for your support, Mark!
#oneclub #onecommunity