Thank You For Your Support During 2019/20!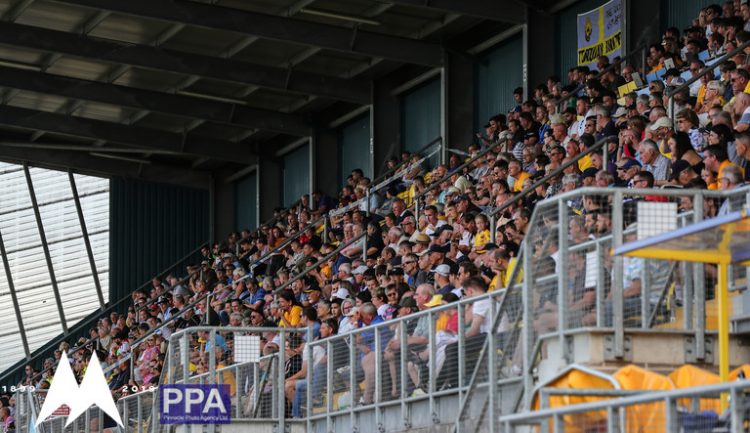 Torquay United AFC would like to express its sincere thanks to all of our devoted Season Ticket holders for their support over the course of the 2019/2020 Season.
The Club would like to take this opportunity to place on record its gratitude for the Season Ticket Holders who have got in touch directly with us, regarding their support for the club. We are very humbled by the support our loyal supporters have shown during these unprecedented times, and everybody is now fully focused on the journey to take Torquay United back to the Football League – where it belongs.
The club would also like to give special recognition to all the Season Ticket holders and Sponsors who have communicated with the club over the past few months, pledging to donate any monies paid for outstanding games cancelled due to the curtailment of the 2019-2020 season. This is an amazing gesture, and promotes the positive nature of our Yellow Army family – Thank you for your understanding and generosity.
Torquay United is a family club that touches so many parts of the community, and the club is looking forward to seeing football returning to Plainmoor on 3rd October 2020.
Despite the challenges Torquay United AFC has faced, the club fully recognises the impact the pandemic will have had on all of our of supporters too, and with this in mind, the club would like to show its appreciation to 2019/2020 Season Tickets holders by providing the following additional benefits to those who choose to renew for 2020/2021, and donate any monies paid for the outstanding games cancelled in 2019/20:
6 Free Tickets to bring a new supporter to Plainmoor – You will be able to share the experience at selected League Matches, as Gary Johnson's new-look team set their sights on battling it out for promotion back to the EFL. More details will follow regarding this benefit.
Free Entry to an exclusive training game at Plainmoor – You will be invited to attend a specially arranged training match, which will also include the opportunity to meet with players, management, staff and directors following the final whistle. Please note: This match will take place once social distancing measures have been relaxed. Date TBC
Each month you will be automatically entered into a prize draw to win a one-to-one meeting with United manager, Gary Johnson
Each month you will also be automatically entered into a prize draw for a signed home shirt
Further details regarding the release of 2020/21 Season Tickets will follow shortly.
The club fully acknowledges the adverse conditions that some 2019/20 Season Ticket holders may have experienced due to the recent ongoing pandemic, and with this in mind, the options being made available to 2019/2020 Season Ticket Holders are as follows:
By securing your place at Plainmoor for the 2020/2021 season, supporters will be entitled to the benefits listed above, as a thank you for agreeing to donate any monies paid for the outstanding games cancelled in 2019/20.
Non-Renewal for 2020/2021, but agree to donate any monies relating to 2019/20's outstanding fixtures to the club. Although no further action is required in this instance, the club thanks you sincerely for your support and generosity, and we hope to welcome you back to Plainmoor in the future.
If you wish to discuss the matter of outstanding fixtures further with the club, you are invited to make contact by emailing yellowarmy@torquayunited.com prior to the deadline of 18/08/2020. Please be aware that if no email is received by this date, no further action can be taken regarding outstanding fixtures.
Thank you again for your continued support, Yellow Army – We look forward to welcoming you back soon for what promises to be another exciting season at Plainmoor!