Torquay United AFC is delighted to announce the signing of Chiori Johnson and Dan Holman, following successful pre-season trials with the Club.
The capture of both players further strengthens Gary Johnson's squad ahead of the 2021/22 campaign, with the Gaffer clearly pleased to have the two men on board.
"I'm pleased to announce that Chiori has signed a deal with us, I think he's had a very good pre-season. I think most people will have seen his athleticism and his passion for the game. He's a great lad on and off the field, and someone that's been schooled at Arsenal has always got that in his repertoire.
"We need to bring that out of him again, and he is absolutely willing to do that. He's also a utility player – he probably doesn't know that himself yet. He plays right-back, he can play left-back, he can play centre midfield, he can play wide. People will see the best of him when we've got him to full fitness.
"Dan Holman is a player I know very well – I think Dan single-handedly got Cheltenham promoted during the second half of the season with his goals in 2015/16. He was absolutely prolific at that stage, and had been six months earlier with Woking. He was unlucky at Cheltenham, and had to pack the game up for a little while.
"On the Friday of the opening league game in League 2 with Cheltenham, my old mate Aaron Downes went into a tackle, and funnily enough – with no blame attached – Dan Holman clashed with Downsey. It was Dan's big toe with Downsey's shin, and a broken toe is very debilitating, if you can't get it working, it makes you a much lesser player – especially with the shots he has. He left, went to a couple of other clubs, but could never get his form back.
"He took that time to play part-time and build up his business, which is as a strength and conditioning coach, which you can see from his frame, and that will help us as well. The first couple of training sessions, he was unbelievable. I know him, and all I needed to see was that he was back to his fitness, because I know he's got goals in him. He will be a great player for us, because he's a natural goalscorer."
Former Arsenal and Bolton man Chiori is clearly eager to get going – In whatever position that may be.
"I'm very excited to be honest, it's a big Club, and we've got big goals for this season, hopefully I can help them achieve them. The Gaffer has spoken to me about different positions I can play in potentially , and I have played in different positions in the past. I'm pretty comfortable in a variety of them. A lot of hard work went into getting back to here, and I'm just excited to get started."
Ex-Cheltenham striker Holman, meanwhile, is raring to get back to work under his previous boss once again.
"I'm really excited to be with the Gaffer and Downsey – I've had my best time in football with both of them before, so I'm just grateful for the opportunity. It was an amazing time, so hopefully we can do that again. The Gaffer and Downsey put you under pressure to perform, there's no cutting corners and they leave no stone unturned. You've got to be at your best every single day. I played a lot with Wrighty that season and Asa as well, so I've been successful with a couple of the lads before, and I'm looking forward to it."
With two new players arriving at Plainmoor, one player going in the opposite direction – temporarily – is Olaf Koszela, who has joined Tiverton Town on loan.
"We've arranged with Tiverton for Olaf to go loan, short-term, with a view to playing games," said The Gulls boss.
"He missed out last year, as did Louie Slough, on not playing enough games. It made it very difficult with the team doing so well, and there is still a little bit more room for for improvement in him. Olaf needs to go somewhere to get some confidence, and Tiverton are very interested in taking there as a striker. Hopefully he'll go there and score some goals, which will help them, help Olaf, and help us.
"He's comfortable there, as he's been there before, and we think it's a good idea at this stage in his football development."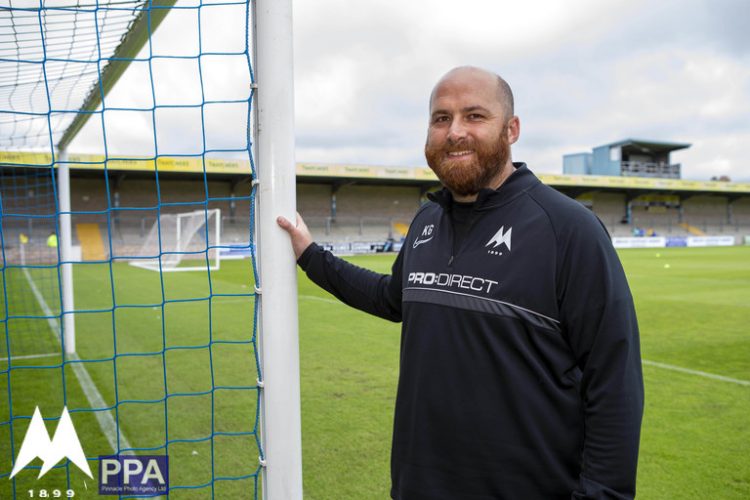 Johnson also announced a change to his backroom team with Ken Griffiths replacing Phil Osborn as Goalkeeper Coach.
"I'm pleased to say that we've found our full-time Goalkeeper Coach, which is Kenny Griffiths. He's local to us, he's been promoted from the academy. This year he's decided to hang his gloves up and help others, as in full-time professional coaching. It's important that the goalkeeper coach gets on with the goalkeepers that are at your club, as they are always a tight-knit group. We've got two new goalkeepers, so all three are new, so it's a very good fit, and I'm very pleased that we've managed to secure his services.
"It was a shame that Phil Osborn decided to leave, he did a fantastic job with our professional goalkeepers, and we wish him well with what he decides to do in the future."