With Gary Johnson's men continuing to lead the way at the top of the National League, tickets for our West Country derby clash against Yeovil Town at Plainmoor on Boxing Day will go on sale from 1pm on Friday, 18th December.
The return of the Yellow Army to Plainmoor is obviously a huge boost to both the club and its supporters, and social distancing measures will be in place throughout the stadium. Although Plainmoor's maximum SG02 capacity figure has been set at 1,728, the exact capacity for each individual fixture at Plainmoor will continue to be determined by the distribution of bubbles throughout the stadium.
With this in mind, and in order to maximise our capacity, some blocks will only be available for phone orders only. This is in the best interests of the Yellow Army, to ensure that we have the maximum capacity possible for this fixture, and as many of our loyal supporters as possible are able to watch this highly anticipated game live at Plainmoor.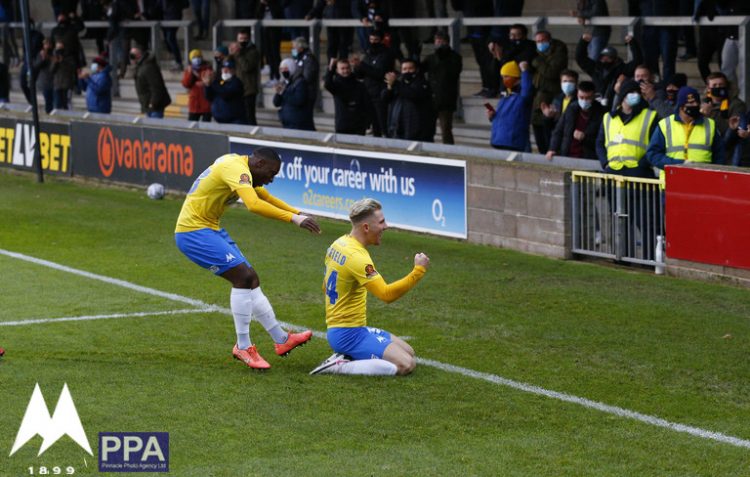 Exiled United supporters who are currently residing in Tier 3 areas are reminded that they should not be travelling out of their areas, and therefore cannot attend matches at Plainmoor.
Whilst we fully appreciate that Christmas is a very important time for families and friends, and that festive matches at Plainmoor plays a large part in these celebrations, the safety of everybody at Torquay United, as well as the wider community, remains the club's priority. Therefore nobody from a Tier 3 area will be allowed access into the stadium on matchdays whilst these restrictions remain in place.
The club will be providing a live streaming service for this fixture, with passes being made available for purchase shortly.
Season Ticket holders will have their seat/space reserved for them for all league games, whilst individual match tickets will be made available for sale to the general public. Please note we will not be allowing away supporters into the ground.
Supporters wanting to book a wheelchair space are asked to phone the club on 01803 328666 or email yellowarmy@torquayunited.com, so that we can arrange this for you.
Individual match tickets for this match are available to purchase via our ticketing website here, whilst phone orders can be placed until 4pm on Friday, 18th December, on Saturday, 19th December between 10am-1pm, and then between Monday, 21st December and Wednesday, 23rd December between 10am-4pm on 01803 328666. Please note that our phonelines may be busy, however if you leave your contact details on our answerphone service, we will get back to you as quickly as possible.
Please note that NO tickets can be collected on a matchday. Tickets will be emailed to supporters where possible, or alternatively they can be posted via a 'Signed For' service for orders placed over the phone, prior to the last postage time of Monday at 4pm, subject to Royal Mail.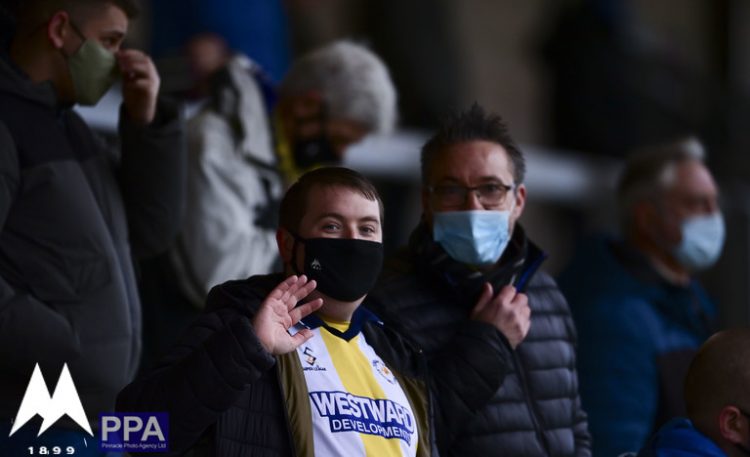 Ensuring Plainmoor remains as safe as possible will require the co-operation of all supporters, and by purchasing a ticket you are confirming your agreement to abide by the Supporters Code of Conduct here . It must be stressed that any supporters who are unwilling to abide by the conditions laid out within this policy will not be permitted to attend matches at Plainmoor. A list of the club's Social Distancing FAQs is also available here.
None of the club's bars or catering outlets will be open.
If you have any queries relating to your ticket order, please email yellowarmy@torquayunited.com.
Thank you once again for your continued support!