Match Sponsorship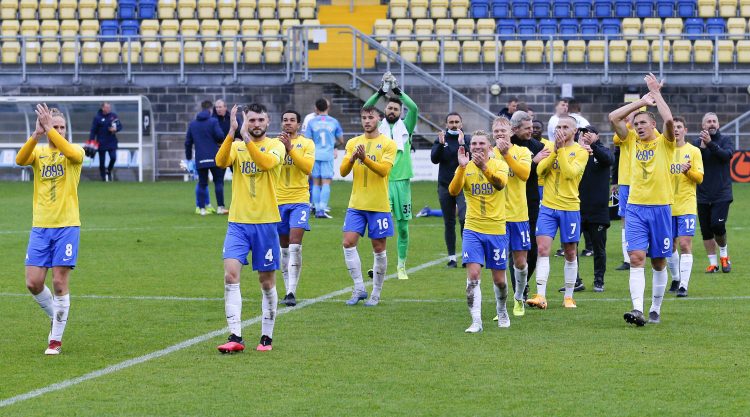 With our first-team fixtures being streamed directly into supporters' homes all over the country – and beyond – there has never been a better time to get your business involved at Torquay United.
Our livestreaming service has already proved hugely popular with home and away fans alike, and the club are now pleased to reveal its fantastic new match sponsorship packages, which will ensure that your business gets the exposure it deserves. With our opening day clash with Stockport attracting international viewers far beyond the respective club's local fanbases, the possibilities are endless.
In addition to this, sponsoring a match at Plainmoor will also see your business acknowledged on the club's social media accounts in the lead up to the big game, as well as being in featured in the post-match report on the club's website following the final whistle.
With a full page advert in the club's ever-popular matchday magazine also included, you can be guaranteed that your partnership with The Gulls will put your business right at the forefront of both sets of supporters on a matchday.
Our Match Sponsorship packages for 2020/21 include the following benefits:
Full page advert in our 1899 Matchday Magazine – Posted free of charge into the homes of hundreds of home & away UK-based supporters every season.
Thank You message from the club on our social media feeds on a matchday, ensuring that supporters acknowledge the part your business is playing towards the club's success
Your company name / logo will also feature in the website's match report – An essential read for supporters wanting to take in the finer details following an afternoon of excitement at Plainmoor.
Your business will also receive regular mentions on TUFC Radio, the club's very own matchday radio station.
Your business will also benefit from a strong presence on during our live coverage of the match, including:
Your company / logo appearing on holding screens in-between the action
Your business will receive regular mentions throughout the game
After watching the game, you will be given the opportunity to select the club's coveted Man of the Match award
During the half-time break, you will also have the chance to make an even bigger impact with supporters, with your businesses' own commercial being streamed straight into the homes of the watching public.
To discuss these exciting opportunities at greater length, please call Commercial Manager, Sharon Cox, on 07949 005832 or email sharonc@torquayunited.com