With United's Boxing Day clash with Yeovil Town now just two days away, United manager Gary Johnson is anticipating another closely-fought encounter with his former club.
"It's a massive game for us, I always enjoy the Yeovil games because they're always competitive," began Johnson.
"Last year we had one good one and one bad one in the space of just a few days. Yeovil are going very well at the moment as far as their form is concerned, I think they've won their last six out of eight, but actually our league form isn't too bad either. So, it should be a good entertaining, competitive, match for the watching public, and I'm sure the Yellow Army will get behind their team and see them through."
With three games in a week, many observers view the festive period as a key point in the footballing calendar, however the Gulls' boss is also keen to concentrate on one game at a time.
"You try not to think too far ahead, because if you win your next twenty games you win the league! We've got to be careful of getting too far ahead of ourselves, but the next game is always important to get the three points.
"Yes, the Christmas period is always important, for the simple reason that you can get a lot of points in a short space of time, but every club is thinking that. I know the importance of festive games and I'll pass that over to the lads, and hopefully we can give our best – because only our best will be good enough – to get three wins in seven days."
Although last weekend's defeat was a disappointment, the scoring return of Danny Wright at Tonbridge came as a welcome boost, with the centre-forward playing himself into contention for Boxing Day.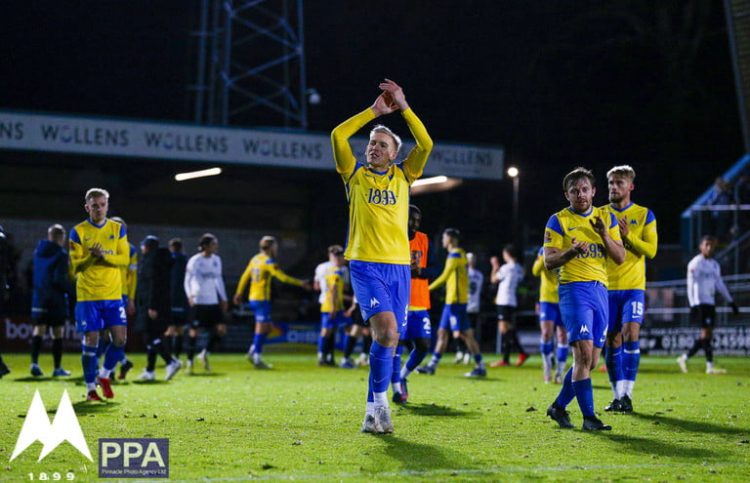 "It's obviously a massive boost because of his experience, but also because he's always got a goal in him, so it's good to have him back. I think he's still got to keep competing for a place, we've got to try to get competitive in our squad, but he's got fit now. Obviously, he only came back in training a couple of weeks ago, but he's certainly a lot further down the road now, and we're pleased to have him back."
Having created a marvellous atmosphere against Stockport two weeks ago, the Gaffer is hoping another similar showing from the Yellow Army against The Glovers will lead to another big three points for the side.
"The one that is for sure, is if the lads are seen to be trying hard, trying to do their best, showing that they are doing everything they can to win the game, then the thing we know is that our supporters will get behind them. They will get behind them just when we need it, and get behind us hopefully right from the start, because especially in games like these, they are massive to us, our supporters.
"It's a real confidence boost for the boys, and they do a lot more when there's noisy, supportive, noise from our fans. We've seen it a million times, and I can't express how important our fans are in these types of games."
Supporters are reminded that online ticket sales will end at midnight on Christmas Day for United's Boxing Day clash against Yeovil Town (26/12/21 3pm KO). Please Note: NO tickets will available for purchase either online or from the stadium itself on the day of the game, with our Matchday Ticket Office open on Boxing Day between for Midday-3pm for ENQUIRIES ONLY.