Princess Theatre Torquay are linking up with TUAFC to give away eight pairs of tickets for upcoming events throughout February and March in their Valentine's Campaign this Saturday.
Supporters who purchase a 50/50 ticket this Saturday, 8th January at United's home game against Dagenham & Redbridge will not only be in with the chance of winning the usual cash prize but also tickets for upcoming events at the Princess Theatre, including: Ellen Kent's Madama Butterfly, The Rocket Man, Kevin Clifton – Burn The Floor, and Lionel – The Music of Lionel Richie.
Eight pairs of tickets are up for grabs, with the winners being selected from the 50/50 draw. The winning ticket numbers will be announced at half time, with the winners able to collect their tickets from reception at the end of the game.
Terms and Conditions
Torquay United Valentine's Ticket Giveaway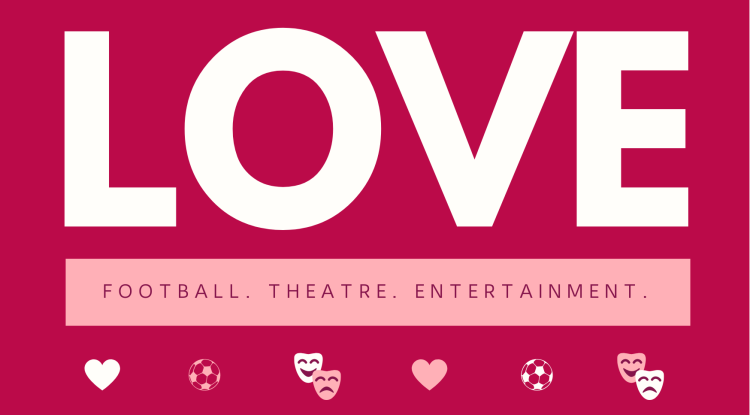 To help celebrate Valentine's Day, The Princess Theatre have teamed up with Torquay United Football Club for a unique Ticket Giveaway, the terms of which are as follows:
Operator: The operator of the TORQUAY UNITED VALENTINE'S TICKET GIVEAWAY is The Ambassador Theatre Group Limited, The Princess Theatre, Torbay Road, Torquay, TQ2 5EZ ("ATG").
Eligibility: The Giveaway is open to Entrants aged 18 and over, and You must be an attendee of the Torquay United vs Dag & Red football match on the 8 January 2022 and have purchased a 50/50 ticket to be eligible. The Draw is subject to all applicable laws and regulations in England and Wales.
Agreement to Terms: By participating, the contestant (the "Contestant", "You") agree to be fully and unconditionally bound by these terms and conditions, and You represent and warrant that You meet the eligibility requirements set out in paragraph 2 above. In addition, You agree to accept the decisions of ATG as final and binding in relation to this Giveaway.
Giveaway Period: All winners will be drawn and notified of their Prize on the day of the Torquay vs Dag & Red match. This is a one-off giveaway and will finish on 8 January 2022.
How to Enter: Participants are automatically entered upon purchasing a 50/50 ticket at the Torquay United vs Dag & Red match on 8 January 2022. The draw will be made by Torquay United Football Club and no information will be shared with any third party without the express written permission of the Winner.6. Prizes: There will be 16 tickets given away for 4 upcoming shows at The Princess Theatre. The shows are: Lionel – The Music of Lionel Richie (Thursday 3 February 2022), Kevin Clifton – Burn the Floor (Saturday 19 February 2022), Madama Butterfly (Sunday 20 February 2022), and The Rocket Man – A Tribute to Sir Elton John (Saturday 12 March 2022). Each Winner will receive 2 tickets to one of the participating shows. ATG cannot guarantee which tickets will be given to which Winners and You acknowledge that the allocation will be subject to availability. The prize is non-transferable. Any and all prize-related expenses (including but not limited to food and drink or travel and accommodation) shall be the sole responsibility of the Winner. No substitution of prize or transfer/assignment of prize to others, or request for the cash equivalent by the Winner, is permitted. Where the Winner's companion is under 18 years of age, the companion must have prior parental or guardian permission to accompany the Winner when taking up the prize. It is the responsibility of the Winner to inform ATG of any wheelchair or similar access requirements for the Winner and/or their companion when taking up the Prize. Anyone under 3 years of age will not be admitted under any circumstances. Everyone entering the theatre will require a valid ticket. Tickets will be subject to ATG's Terms and Conditions which can be found at https://www.atgtickets.com/legal/terms-and-conditions/2021-07-16/.
Winner Selection and Notification: Tickets will be drawn at half time in the 50/50 draw by Torquay United Football Club. The numbers of the winning tickets will be announced at half time over the PA system. If you do not wish to accept the Prize, or if you are later unable to use your tickets, please contact the venue before the date of your event. Winners are required to confirm their attendance by collecting their Prize at the end of the match with proof of their winning ticket. Failing this, Winners can also confirm their attendance within 1 week of notification via email. Failure to confirm your booking within the specified time period will void your win and the tickets will be re-allocated to an alternative Winner. ATG shall have no liability for a Winner's failure to receive notices due to spam, junk e-mail or other security settings, or for Winner's provision of incorrect or otherwise non-functioning contact information. If an email is provided by the Winner to ATG, e-tickets for the performance will be sent to the Winner by email at least 48 hours before the relevant performance. Receipt by each Winner of the prize offered in this Giveaway is conditional upon compliance with applicable laws and regulations.
ANY VIOLATION OF THESE RULES BY A WINNER (AT ATG'S SOLE DISCRETION) WILL RESULT IN WINNER'S DISQUALIFICATION AS WINNER OF THE DRAW, AND ALL PRIVILEGES AS WINNER WILL BE IMMEDIATELY TERMINATED.
7. Attending the performance: Winners must present their valid tickets to gain access to the performance. As with all bookings, Winners and members of their party must comply with ATG's latest Covid safety measures, which can be found at https://www.atgtickets.com/help/health-and-safety/. All Winners will be contacted with further information on these measures prior to the performance date. Winners who are unable to attend should inform us at least 48 hours before the performance to ensure tickets can be reissued.
8. Rights Granted by You: Personal data will be used as necessary to fulfil the terms of the Giveaway and to notify the Winners. Your personal data might also be used to support the efforts of Test and Trace when you attend the venue. For more information on how we handle your data, please refer to our Privacy Policy at https://www.atgtickets.com/legal/privacy-policy/2020-11-17/.
9. Cancellation: ATG reserves the right, in its sole discretion, to cancel, terminate, modify or suspend the Draw should virus, bug, non-authorised human intervention, fraud, or other cause beyond ATG's control corrupt or affect the administration, security, fairness, or proper conduct of the Draw. In such case, ATG may select a winner from all eligible entries received prior to and/or after (if appropriate) the action taken by ATG. ATG reserves the right, in its sole discretion, to disqualify any individual who tampers or attempts to tamper with the entry process or the operation of the Draw or violates these Terms and Conditions. ATG has the right, in its sole discretion, to maintain the integrity of the Draw, to void any Contestant's entry form where it has reason to believe the Contestant has violated the rules.
10. Limitation of Liability: By entering, You agree to release and hold harmless ATG and its subsidiaries, affiliates, advertising and promotion agencies, partners, representatives, agents, successors, assigns, employees, officers, and directors from any liability, loss, litigation, claim, or damage that may occur, directly or indirectly, whether caused by negligence or not, from such entrant's participation in the Draw and/or his/her acceptance, possession, use, or misuse of any prize or any portion thereof, save to the extent that such exclusion is not permitted by law. ATG, its subsidiaries, affiliates, advertising and promotion agencies, partners, representatives, agents, successors, assigns, employees, officers, and directors shall not be liable for (i) technical failures of any kind, including but not limited to the malfunction of any computer, cable, network, hardware, or software, or other mechanical equipment; (ii) the unavailability or inaccessibility of any transmissions, telephone, or Internet service; (iii) unauthorized human intervention in any part of the entry process or the Draw; or (iv) electronic or human error in the administration of the Draw or the processing of entries, save to the extent that such exclusion is not permitted by law.
11. Disputes: This Draw is governed by the laws of England and Wales. As a condition to participating in this Draw, You agree that any and all disputes that cannot be resolved between the parties, and causes of action arising out of or connected with this Draw, shall be resolved individually, without resort to any form of class action, exclusively before a court in England. Further, in any such dispute, under no circumstances shall You be permitted to obtain awards for, and hereby waive all rights to, punitive, incidental, or consequential damages, including reasonable legal costs, other than Your actual out-of-pocket expenses.
12. Assurance of Fairness: To obtain information indicating that a valid award took place, please send a stamped, self-addressed envelope together with the request to the address set out at paragraph 1. Requests must be received no later than 1 month after the closing date of the Draw. By entering you agree that ATG will publish or make available information about the Winner to indicate that a valid award took place. This will include the Winner's surname and county. If you do not wish this information to be published or made available, you should not make the request.
All that's left to say is good luck – and come on you Gulls!
#OneClub #OneCommunity