TUFC 1
(Lemonheigh-Evans 90+1′)
Stockport County 0
Match Sponsored by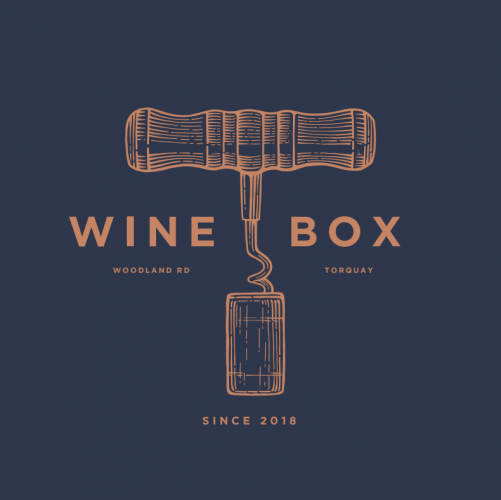 After seven months away, Gary Johnson's men made the perfect start to 2020/21, with a 1-0 win over much-fancied Stockport County.
After a match which saw United largely on the back foot, it was Torquay who struck late on to steal all three points, as Connor Lemonheigh-Evans grabbing the all-important goal.
After the announcement of three new additions just ahead of kick-off, it was Bournemouth defender Sam Sherring who took his place in the starting line-up, whilst Adam Randell and Louis Britton took their places on the bench following their respective moves from Plymouth and Bristol City.
In conditions not often associated with the opening day of the football season, the heavy rain played no small part in a lack of cohesion from either side during the nip-and-tuck early stages.
The first real chance of the game fell to United in the sixth minute, as Ben Whitfield fired in a decent effort from just outside the box, with Ben Hincliffe in the visiting goal doing just enough to palm the shot around the post.
It wouldn't be until the game was a quarter of an hour old that a County player tested his Torquay counterpart, as John Rooney tried to exploit the conditions with a free-kick from 30 yards out. The ball didn't have enough on it though, with Covolan easily gathering.
Stockport then began to enjoy a spell of possession, and The Gulls' Brazilian glovesman was called into more serious action ten minutes later, as he got down well to produce a fine near-post save, as Mark Kitching found himself in space on the right-hand side of United's box.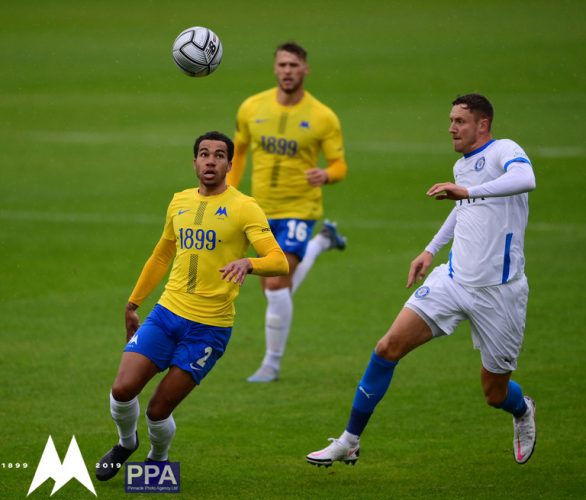 The visitors were enjoying increasing joy as the game headed towards the interval, with only a last-gasp intervention from Kyle Cameron preventing Lois Maynard from opening the scoring, with the United skipper forced to clear off the line.
Despite giving up more territory than they would have liked, it was to their credit that Johnson's side kept their opponents at bay, with Torquay's re-jigged defence coming up with a number of vital challenges in the box, despite the unpredictable conditions.
On the stroke of half-time, Ben Wynter was very nearly rewarded for 45 minutes of hard graft at the heart of the backline, as his searing drive sailed just over the bar after Lemonheigh-Evans' corner has only half cleared.
As the sides left the field with the scoreline unbreached, the watching Yellow Army at home would have been reflecting on a half full of endeavour, if perhaps lacking in clear-cut chances.
Once the second-half got underway, Torquay set about applying pressure The Hatters' defence, however it was Covolan who was again forced to act on 49 minutes, coming up with a dominant punch under pressure as a County corner threatened to curl straight in. The resultant loose ball failed to trouble him though, with James Jennings' strike well off-target.
United were beginning to put some promising moves together around the hour-mark – with Aaron Nemane's driving runs a highlight – however, it was Covolan who had to be on his guard twice more during this period, most notably to deny Alex Reid at his near-post, with a cross-field ball splitting The Gulls' backline.
Torquay's goalkeeper was more than justifying his selection and midway through the second half, he produced another moment of brilliance at point-blank range to after Mark Kitching's left-wing raid threatened to force the breakthrough.
Rooney's threatening low drive in the a few minutes later also came close to breaking his resistance, however this time the ball sailed just past the far post unaided.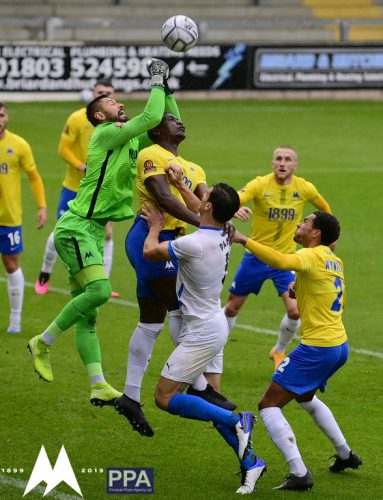 The introduction of fresh blood with ten minutes remaining gave the side an added lift, with new boy Randell linking up well with Nemane to play Whitfield into space, with the United man's cutback being diverted behind, with a number of Gulls forwards threatening to pounce.
Suddenly it was United in the ascendancy, as first Britton fed Lemonheigh-Evans to fire wide, before Randell fired into Hinchcliffe's palms with a decent shot from the edge of the D.
With the clock ticking down, Johnson's men started turning the screw, with Britton coming agonisingly close on no less than three occasions in the dying stages. First, his unmarked header from Whitfield's cross from inside the six-yard box lacked the required direction, however his next two efforts were hit perfectly, forcing both 'keeper and crossbar to spare County.
That reprieve was to be only temporary though.
Nemane, who had worked so hard throughout, finally found some space to send in a cross from the right wing. Although the deep ball eluded the lurking Danny Wright, it had just enough pace to reach the onrushing Lemonheigh-Evans, who saw his opportunist shot creep into the net via a backtracking defender.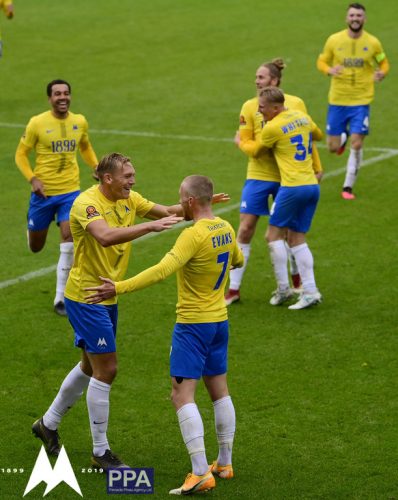 Celebrations greeted the strike out on the pitch, amongst the staff in the stands, and no doubt in a significant number of rooms throughout Torbay & beyond, with County having no time left to mount a serious response.
What a result, and what a way to start a new season.
After the longest pre-season in memory, there's now precious little time for Johnson's side to catch their breath, as United head to Hampshire for their first away trip since Sutton back in March, with Eastleigh the hosts at the Silverlake Stadium on Tuesday evening.
It's good to be back!

TUFC: 33. Lucas Covolan, 2. Ben Wynter, 4. Kyle Cameron (c), 7. Connor Lemonheigh-Evans, 9. Danny Wright, 11. Jake Andrews (12. Adam Randell, 80′), 15. Matt Buse (8. Asa Hall, 80′), 16. Sam Sherring, 23. Aaron Nemane, 34. Ben Whitfield, 35. Josh Umerah (19. Louis Britton, 80′). SUBS NOT USED: 1. Shaun MacDonald (GK), 18. Olaf Koszela.
Bookings: Umerah 35′
Stockport County: 1. Ben Hinchcliffe, 2. Sam Minihan, 3. James Jennings, 4. Liam Hogan (c), 5. Ash Palmer, 6. Lois Maynard, 8. John Rooney, 9. Richard Bennett (20. Nyal Bell, 75′), 10. Connor Jennings (7. Adam Thomas, 84′), 14. Mark Kitching, 19. Adam Reid (16. Jordan Keane, HT). SUBS NOT USED: 15. Jamie Stott, 21. Josh Barnes (GK).